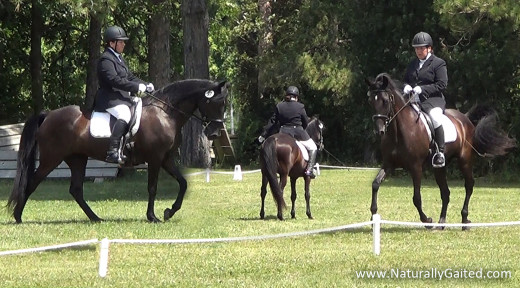 Welcome to Naturally Gaited:
Dressage is More than Trot
Hi! My name is Jennifer Klitzke and pictured above is me and Gift of Freedom (Makana) my naturally gaited and barefoot Tennessee walking horse mare. We have been together since 2007 when I bought her as a three-year-old filly. Makana is my first naturally gaited horse. As a dedicated dressage student since 1988, dressage became our training method.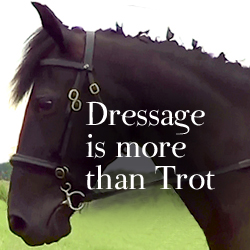 When Makana and I began our gaited dressage journey, I scoured cyberspace for information about gaited dressage. I googled YouTube for videos that demonstrate the natural four-beat flat walk and running walk, and videos on cantering the gaited horse. There wasn't much out there, so I launched NaturallyGaited.com.
Dressage offers so many benefits for the naturally gaited horse that I felt compelled to share what we have gleaned, as well as publish links to resources that have helped us along the way.
Dressage improves balance, forwardness, rhythm, connection, and relaxation (in mind and body). I have found that these attributes improve the quality of movement in gaited horses.
By relaxing the horse's mind, the horse is more teachable.
By relaxing the horse's jaw and back, pace can be replaced with a natural four-beat gait.
With suppling exercises, the horse can relax, engage its abdominal muscles to lift its back and develop a deeper stride beneath its body.
By riding with even contact on both reins and connection from the hindquarters to the bit, the horse can develop a consistent head nod in the flat walk, running walk, and fox trot.
Dressage also helps improve the rider's position and their use of aids in communicating with the horse which produces greater trust, relaxation, and harmony.
Most of all, naturally gaited horses flourish when ridden using dressage methods that build trust, relaxation, and respect for the horse compared with domination training methods, harsh bits, heavy shoes, chains, pads, artificial enhancements, and mechanical devices.
Gaited dressage is great for people, like me, who have invested years of time and money taking dressage lessons on trotting horses and then one day wake up in a grandma body. Naturally gaited horses are easy on a rider's back. Because they are so smooth, there is no need to post or sit a jarring trot! This makes a naturally gaited horse an amazing horse for the trail. These horses cover a lot of ground quickly and your body won't pay for it later!
Video: How dressage improves the movement of naturally gaited horses


If you are on this gaited dressage journey, I'd love to hear from you. Please contact me, join the NaturallyGaited Facebook community, and subscribe to the NaturallyGaited YouTube channel.