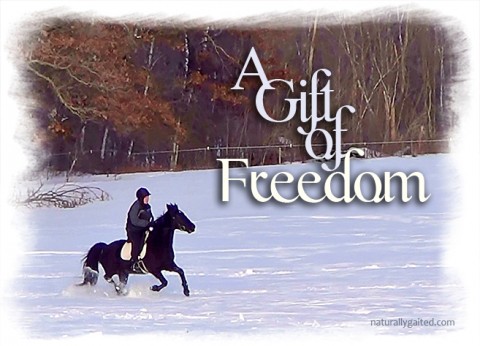 By Jennifer Klitzke
Galloping through an open field is something that I have always longed to do, yet paralyzing fear had imprisoned me.
My Tennessee walking horse mare was a Valentine's Day gift from my husband in 2007. (Well, actually, I pleaded with him for two weeks when he buckled on Valentine's Day and said, "Okay!") She came with the registered name "Gift of Freedom" which is ironically symbolic.
As a child, I rode my spring-loaded plastic pony through the wild, wild West of my imagination and dreamed for the day of owning a horse. That day finally arrived 24 years later after a friend said to me, "Jennifer, you're going to be saying 'Someday I'll buy a horse' for the rest of your life. You need to make it happen or 'someday' will never come."
She was right, so that's what I did. I saved enough money for my first horse and 29 years later, I think I'm more horse-crazy than ever! Bringing horses into my life was one of the best decisions I have ever made.
I was born for this.
Horseman Buck Brannaman says, "Horses are a mirror to your soul," and I've found that to be true. I believe that God has used horses to expose the broken and misguided pieces of my life that are in need of restoration. Once I courageously acknowledge and work through these broken areas, God has blessed me with a gift of freedom.
In fact, the real gift of freedom came at Easter time in 1996.
Leading up to this, horses had become a god of sorts. Horses had become my source of life, my source of purpose, and my source of identity. Anytime horses fell short of the god-role I had placed them in, I became more demanding to the point that control, perfectionism, and domination began to replace what once had been team-driven harmony.
When horses rebelled and I felt out of control, then hyper-ventilating panic attacks began to consumed me. I became so imprisoned with paralyzing riding fear that I could only ride in a 20-meter circle, traveling to the left, on a calm day, with no distractions, in an indoor arena, at a walk.
Then one day I faced a cross roads: It was time to quit riding horses, the very thing I love, or face the fear in humility, with courage and an open mind in hopes of overcoming it?
Yes, I believe Buck Brannaman is right when he says, "Horses are a mirror to your soul." I am thankful that they have humbled me to realize that riding horses isn't about controlling them; it is about building a trusted partnership.
And horses were not meant to be my source of life, either. Horses are a gift from God—not a god. I believe that God had allowed this cross roads in order that I would ultimately find what I had been searching for— an identity, a purpose, and meaning for life in Him.
Not only that, God has given me the courage to face my fears and over come them. Through daily prayer and perseverance, He has given me a gift of freedom to do what I never imagined I would be doing.
Today, me and my naturally gaited Tennessee walking horse, Gift of Freedom, enjoy many adventures I only dreams of doing: riding in the beauty of nature outside of the four walls of an arena, participating in endurance rides, moving cows in sorting leagues, gymnastic jumping, and more.  All without the straps of fear.
Enjoy your journey!
Stay connected by subscribing to the Naturally Gaited youtube channel and join our community on facebook.com/naturallygaited.