By Jennifer Klitzke
There was only one gaited dressage horse entered among 127 tests ridden by trotting horses at the Three Ring Circus schooling dressage and hunter/jumper show—and it wasn't me and Makana!
Rain drops didn't damper my mood when I arrived with my Spanish Mustang, because I was delighted to see another naturally gaited Tennessee walking horse competing gaited dressage among the dozens of trotting horse entries.
Being a spectator with the crowd of traditional dressage onlookers I was happy to answer the many questions that came up by those who had never seen a gaited horse performing a dressage test. Sally Frones provided a wonderful demonstration with her handsome black gelding Gideon. The team demonstrated a beautiful picture of relaxation, rhythm, harmony,  balance, impulsion, freedom and regularity of gaits, a lovely riding position, and one heck of a nice canter!
After her ride Sally said, "It was my [trotting horse] friend Julie who got me into this!" Julie shows her Friesian in Training Level and encouraged Sally to enter the "Test of Choice" category where Sally entered the FOSH IJA: Two Gait and Training One Tests.
Sally had only started Gideon under saddle last April and here he is showing solid Intro and Training Level Tests.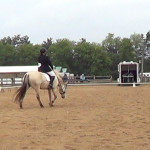 My Spanish Mustang, Indian's Legend (Indy), and I rode First Level Tests One and Three for judge Molly Schlitgen. It is our first year competing at this level. Makana, my naturally gaited Tennessee walking horse and I have been riding First Level for a couple years now. In fact, two weeks ago we rode for the same judge at the Arbor Hill schooling dressage show.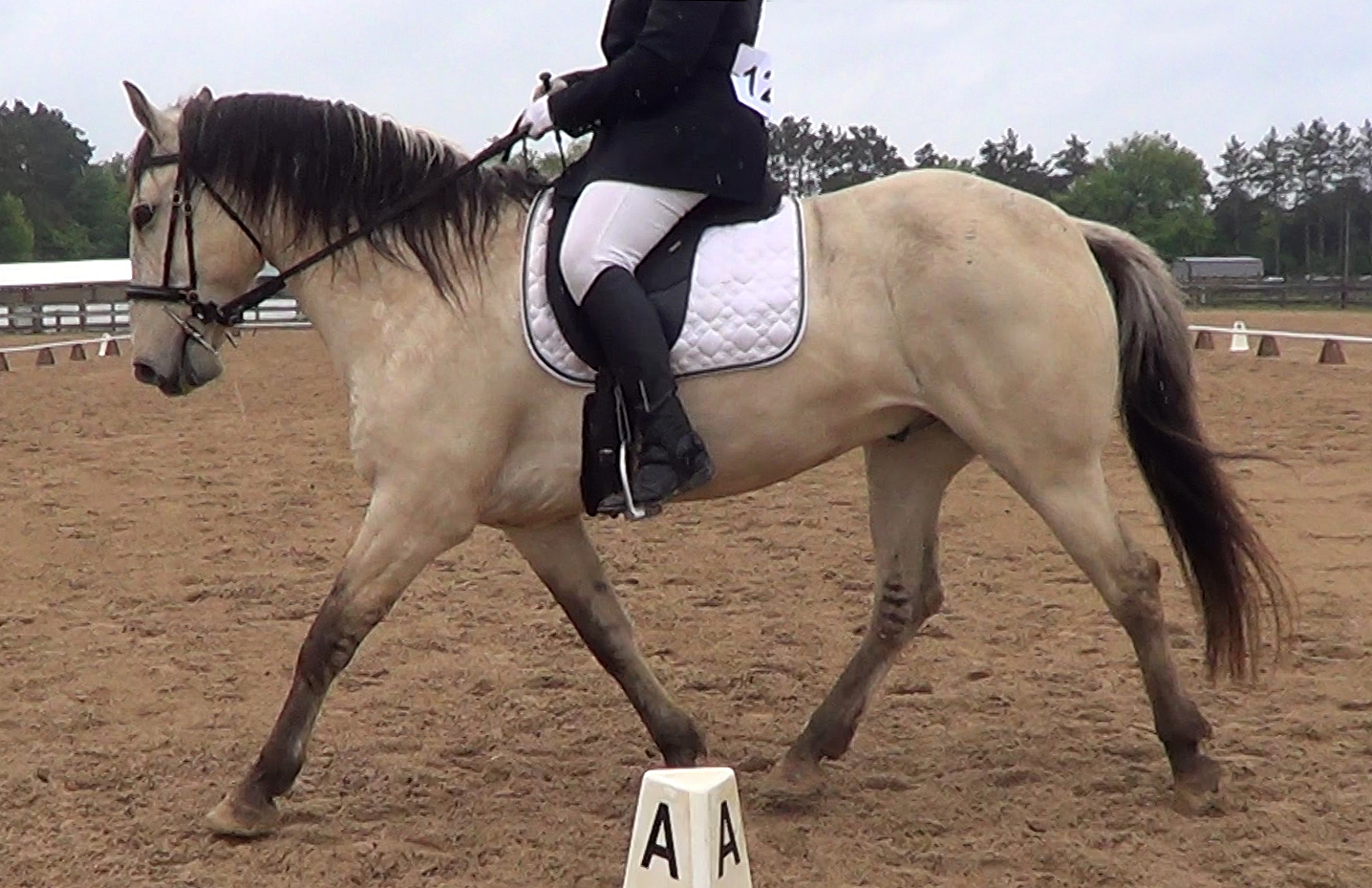 It blows my mind that after a 16-year lapse from the dressage arena, I never imagined that I'd be back competing dressage on a horse that doesn't trot. Even stranger, that my naturally gaited Walking horse re-inspired me to purchase another trotting dressage prospect!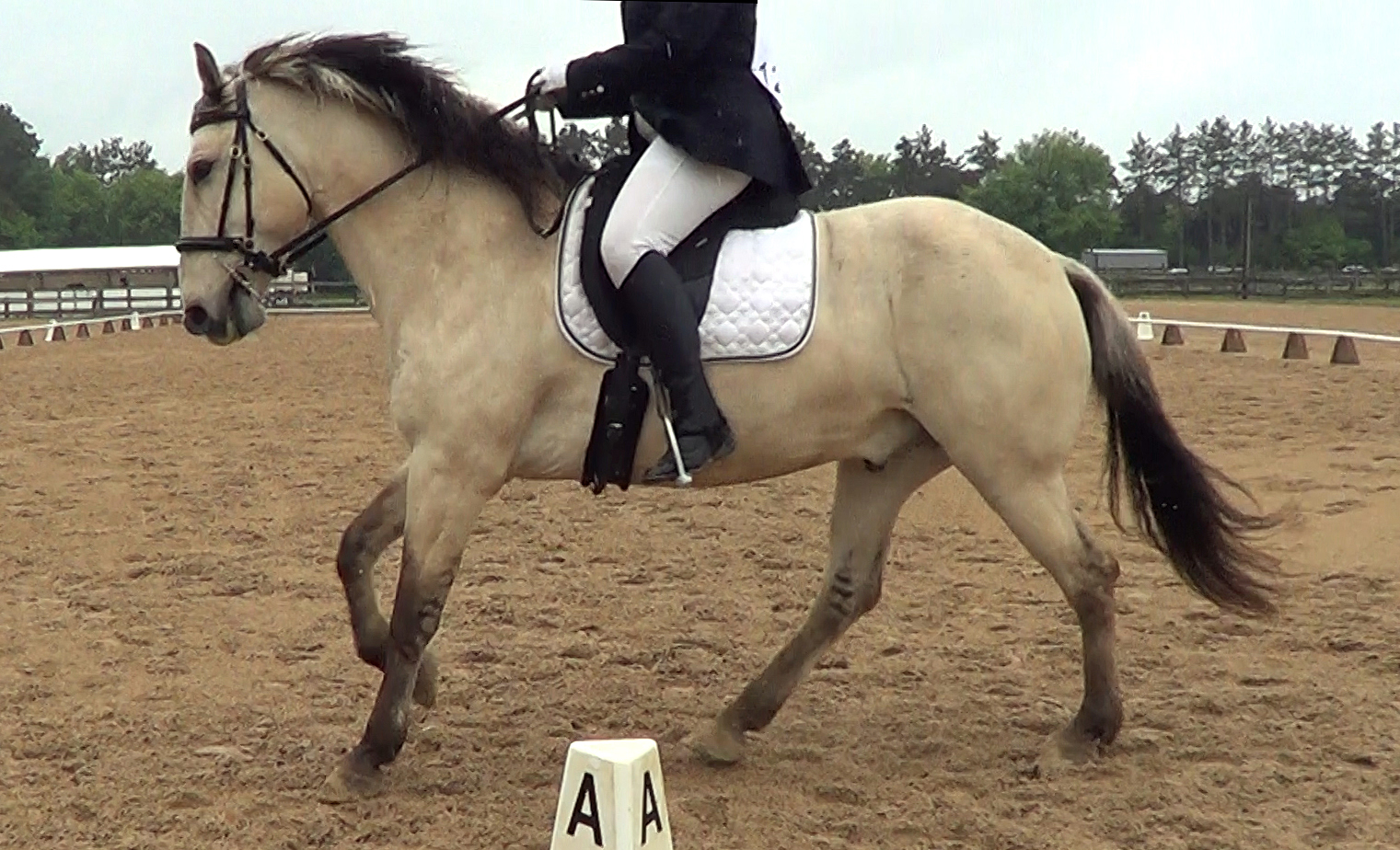 I bought Indy in the winter of 2012 and we have competed Intro through First level. I will be working on achieving my USDF Bronze Medal with him beginning this year. In addition to dressage, we compete at Starter level eventing and 2'3″ hunter courses.
Indy and I placed third of four and sixth of nine horses in our classes with scores of 62.06% and 59.26%. We have some work to do to catch up with Makana's scores.
Sponsored by St. Croix Saddlery, the Three Ring Circus schooling dressage and hunter/jumper show is well organized with dozens of volunteers and hundreds of entries between the dressage and jumping rings. It is the largest schooling show in Minnesota which is held at Carriage House Farms in Hugo, Minnesota. The facility is top notch and the atmosphere is always low-key and friendly.
Special thanks to everyone who made this show possible and for accommodating gaited dressage.