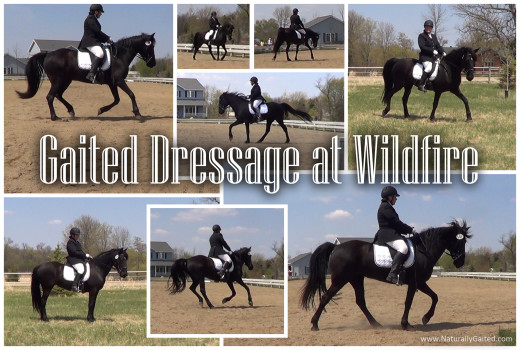 By Jennifer Klitzke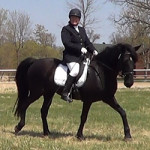 I took my barefoot, naturally gaited Walking horse, Gift of Freedom (Makana), to our first schooling dressage show of the 2015 season on May 2 at Wildfire Farms in Maple Lake, MN. You couldn't ask for better weather and a more organized show. Makana and I rode the new 2015 NWHA Training Level 3 and First Level 1 Tests among the 40 tradition dressage tests ridden — Intro through Third levels.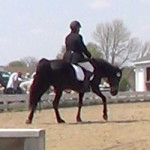 Getting to the show late with 30 minutes before our first ride was pushing it. Then my boot zipper broke. Rats! Now what?! Duct tape. Why, yes! So here I am dressed in my formal dressage outfit with duct tape wrapped around my left calf. I just had to laugh!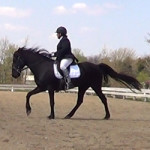 Makana and I were given five minutes to school in the arena before our test to get acquainted with the judge's stand, the letters, and the flower boxes. She wasn't so sure of the flowers wiggling with the wind, and I wasn't so sure how well our rides would be since flowers were placed at most of the letters.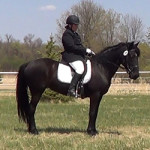 Before a couple dozen onlookers (including my first riding instructor of 12 years) I man handled Makana past the flower boxes. It wasn't exactly the introduction to gaited dressage I had hoped to present to those who had never seen it (which included my riding instructor).
Then whistle blew for our test.
Down the center line we rode—determined, straight, and square. Makana snapped into dressage mode and seemed to forget about the dancing plants. She and I pulled off a remarkable Training Level 3 Test with a score of 68.2%. Even the judge was surprised after watching the difficulty we had just moments before.
Twenty minutes later we re-entered the arena for our First Level 1 Test. Makana was a trooper. Her flat walk, lengthened flat walk, free walk, and canter work were terrific.  Judge Jody Ely commented on how seamless our transitions were with barely noticeable cues. With her dressage background Jody said she knew firsthand how challenging it is as she has trained several TWHs and Missouri Foxtrotters.
Areas the judge pointed out where we can improve are for me to be more precise in my delivery of aids at the letters and help Makana be more consistent in her rhythm at a flatwalk.
I was tickled that we completed our First Level 1 Test with a score of 70.4%.
Video: NWHA 2015 Training Level Test Three
Video: NWHA 2015 First Level Test One
Thank you to Wildfire Farms for hosting this schooling dressage show at your beautiful facility and for accommodating gaited dressage. I hope there will be another!