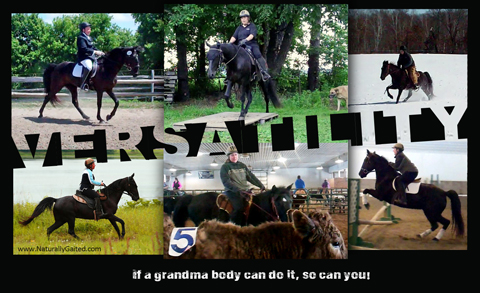 By Jennifer Klitzke
If a grandma body can do it, so can you!
This collection of photos is taken with my barefoot and naturally gaited Tennessee walking horse Gift of Freedom (Makana). Her willingness to be versatile has made me a more versatile rider at the age of 50.
In addition to gaited dressage, we enjoy trail riding, trail obstacles, gymnastic jumping, sorting cows and team penning, endurance, and riding in the snow.
Until I bought her in 2007, the only riding I did was in an enclosed dressage arena. I was too frightened to ride trails or go places. Now my calendar is full of fun things to try!
What are some things you do with your gaited horse?