By Jennifer Klitzke
From scenic trail rides to new gaited dressage venues to gaited dressage clinics and many firsts, here are my top 10 most memorable moments of 2013: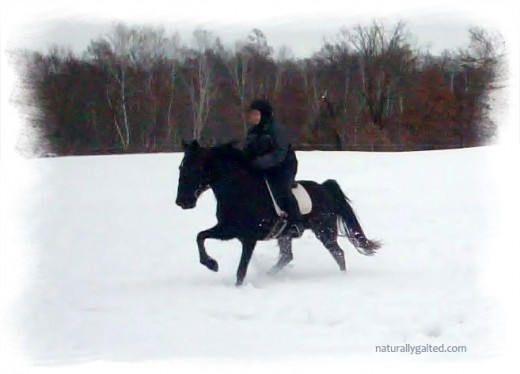 10. Riding in the snow
The winter of 2013 didn't want to end! A snow covered landscape through May gave me many memorable moments of walkin' in wonderland!
Story: Walkin' in Wonderland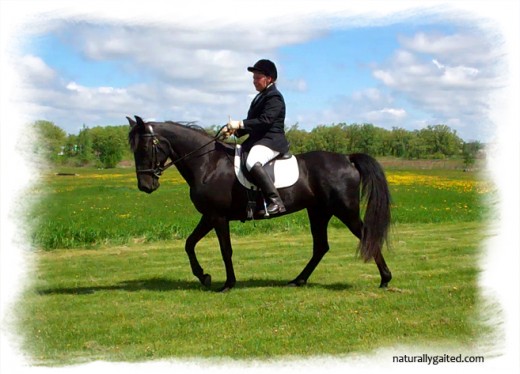 9. Rocking R Farm Schooling Dressage Show
I've ridden at several Rocking R schooling dressage shows since 2010. They've been offering gaited dressage classes at all three of their annual schooling shows (Western dressage, too). I hope 2014 is the year that I won't be the only one riding a gaited horse!
Story: Gaited Dressage at Rocking R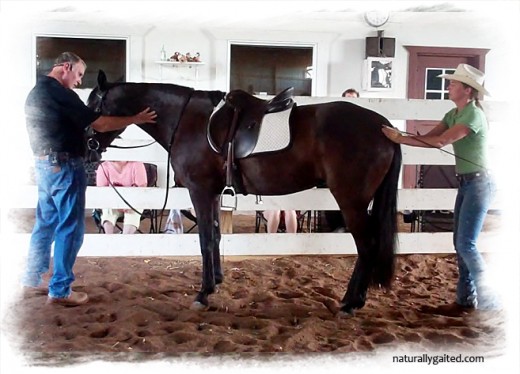 8. Larry Whitesell/Jennifer Bauer Gaited Dressage Clinic
In August I returned to my third Whitesell/Bauer Gaited Dressage Clinic. Among the many memorable moments were connecting a few more dots in grasping Larry's riding philosophy which is patterned after French classical dressage (see clinic recap); solo rides through the beautifully groomed trail system on my Spanish Mustang while Makana rested up for another full clinic day; and gaining important answers to the reason I returned to Larry's clinic a third time.
Story: Back and Forth to Better Movement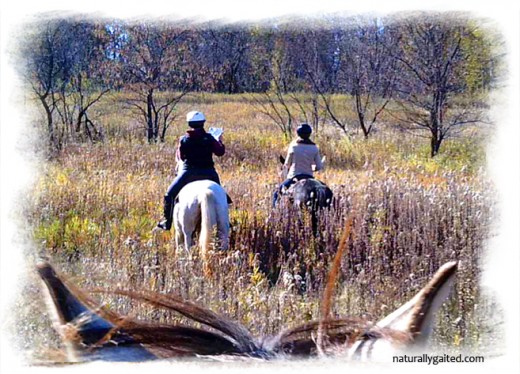 7. Orienteering
2013 held many firsts for me and my gaited horse Makana which included learning how to follow a map, read a compass, and decipher clues to find six hidden targets on our first mounted orienteering event.
Story: Maps, Compasses, and Clues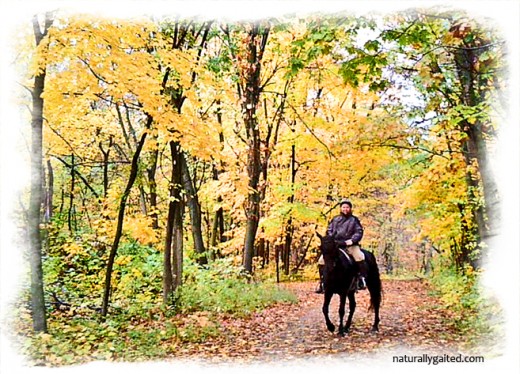 6. Autumn Trail Ride
I experienced many memorable trail rides this year. Among them was the autumn trail ride through Crow-Hassan Park Reserve on my birthday with my saintly husband. Riding through the canopies of gold was like a sunrise in the forest. Photos>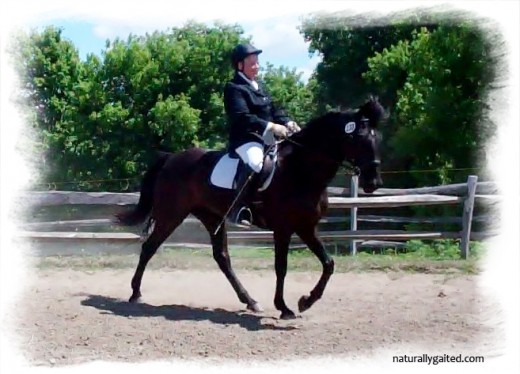 5. North Run Schooling Dressage Shows
Ranking five among my most memorable moments of 2013 was showing at North Run Farm Schooling Dressage Shows. North Run became another traditional dressage venue which welcomed gaited dressage entries. Both North Run shows I took my gaited horse to were extremely well organized, drew a friendly crowd, and the judge provided encouragement to each rider after each test. If you're thinking about giving gaited dressage schooling shows a try in 2014, North Run is a wonderful venue to start with.
Story: Gaited Dressage at North Run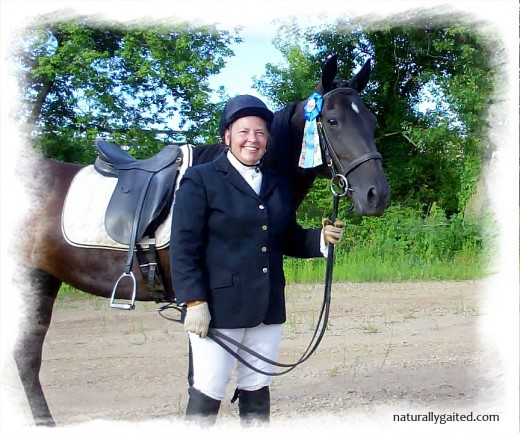 4. St. George Schooling Dressage Shows
Like North Run, St. George Equestrian Center also graciously accommodated gaited dressage entries at their schooling shows this year. St. George is a posh, brand new, state-of-the-art facility with perfect footing, a competition sized outdoor arena surrounded with scenic woodland, an enormous indoor arena lined with mirrors and giant fans that circulate the air. The shows are well organized and the atmosphere is beginner friendly, helpful, and relaxed. In addition to the scoring sheet, the judge gave each rider significant suggestions after each ride to help them improve.
Story: Gaited Dressage at St. George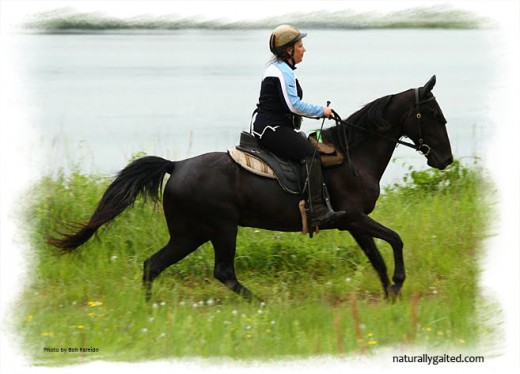 3. Endurance
My third most memorable moment of 2013 was taking my gaited horse to a 10-mile novice endurance ride. I was pleasantly surprised when my naturally gaited mare was naturally forward the entire ride! This had been the first time I actually felt what "ahead of my leg" on this horse is suppose to feel like. (Now if I can harness this forward desire in an arena, we might just break into second level this year!)
Story: Naturally Gaited at Mosquito Run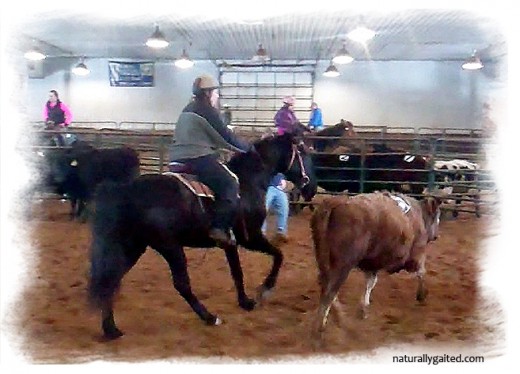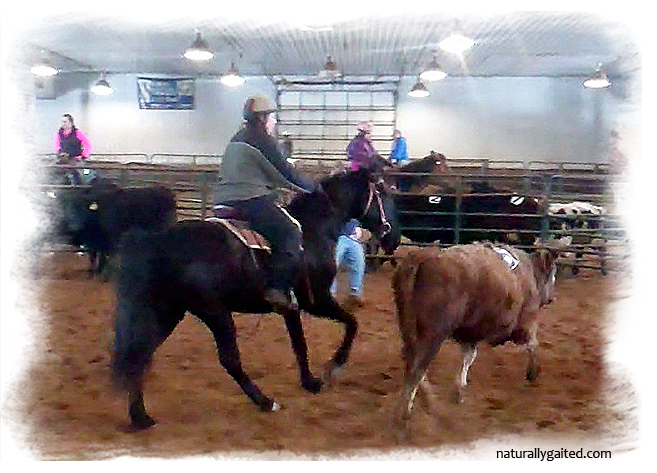 2. Working with Cows
My second most memorable moment of 2013 was discovering how much fun Makana and I had working with cows. If it weren't for my cow-chasing friend, I would have never given it a serious thought, but she got us signed up for the "Introducing Your Horse to Cows Clinic." After the clinic we joined a cow sorting league and a couple team penning practices. Chasing cows is another activity that inspires my mare to be naturally forward.
Story: Gaited Dressage and Cows?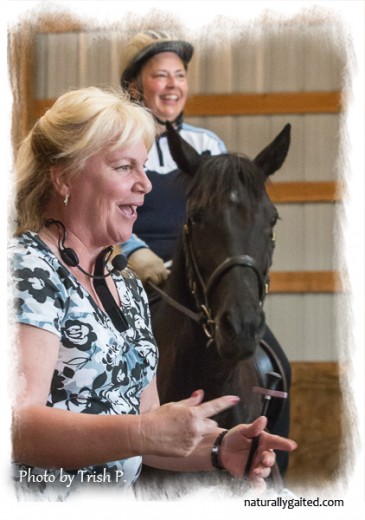 1. Jennie Jackson Clinic: Dressage as Applied to the Gaited Horse
Hands down, my most memorable moment in 2013 was spending a few days being coached by Jennie Jackson. Jennie is the only person I know of in history who has trained and shown a Tennessee walking horse to the highest levels of dressage: piaffe en gait, passage en gait, canter pirouettes, tempi changes, and developing the full range of motion–collected through extended walks, gaits, and canters.
During the last seven years of pursuing dressage with my gaited horse I've wrestled with a few questions: How do I ride a head-shaking horse on-the-bit? How do I develop an elegant, balanced dressage form in my gaited horse? How high up the dressage levels can a gaited horse go while maintaining gait? Is it possible to collect a gaited horse?
In January I purchased Jennie Jackson's Dressage en Gaite training DVDs in hopes of finding answers to these questions. After watching the DVDs I knew that Jennie would be able to help me and my horse. That's when I asked Jennie to teach a Dressage as Applied to the Gaited Horse Clinic in my state. The clinic was a huge success.
Story: Dressage as Applied to the Gaited Horse Clinic with Jennie Jackson.
As an added bonus, Jennie's husband Nate also came to the clinic. The Jackson's traveled half way across the country in an RV and camped at my place during the clinic. Words do not describe the honor and respect I have for the Jacksons' tenacity, perseverance, and integrity as they have taken a stand against TWH soring and abuse for 30 years. While they camped in their RV parked in my backyard, it was a privilege to call them neighbor and leave as friends!
Here's hoping for another clinic with Jennie Jackson in 2014!