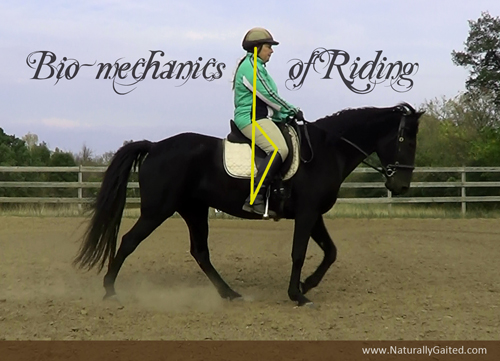 By Jennifer Klitzke
Twenty-plus years ago fear paralyzed me to the point of panic attacks at the thought of riding and I faced a cross-roads: Do I give up my passion for riding horses or face my fear? That's when I picked up the book The Natural Rider written by Mary Wanless. She teaches how to ride from the right side of your brain using abstract visual concepts, details how to effectively reposition your inner anatomy in ways that impact the balance point between you and your horse, and she outlines the importance of breathing while riding and its place in overcoming fear.
When I heard that the England-native author/instructor was coming to Minnesota to teach a three-day bio-mechanics riding clinic, I had to go and watch. I soaked in profoundly effective concepts like "conveyor belt," "sling shot," and "strings" and couldn't get home fast enough to try them out with my naturally gaited Walking horse.
Instead of fixating on manipulating the horse each time they move off course, Mary's approach is more about teaching the rider how to ride in state of balance and awareness that the horse is more likely to mirror.
For me, it is developing an awareness of and repositioning my inner anatomy and symmetry between the front and back, right and left sides of my body, and when bringing it all together into correct alignment have a profound impact on my horse's way of going. Riding from this isokinetic core brings balance, stillness, power, and impact in my riding and my horse becomes lighter and more balanced with less rushing.
Mary's clinics feature trotting horses, but her riding paradigm works equally well for riding gaited horses. When applying a few of the body repositioning concepts I learned while auditing, I felt more still without being tense, my naturally gaited walking horse felt more through from the hindquarters to the bit, and she took deeper steadier steps under her belly at a flat walk. Being more still reduces the "noise" to my horse where my aids are more clear and she becomes more responsive.
Two decades after reading The Natural Rider I am grateful to have finally met Mary Wanless in person whose concepts have helped me push through fear instead of giving up. And now she's rekindled a love for riding like I'm learning how to ride for the very first time!
***
Mary Wanless is best known for her ground-breaking approach to riding known as "Ride With Your Mind." Her teachings focus on the bio-mechanics of riding, improving the riding position, bringing the horse into self-carriage, becoming more flexible and supple, achieving harmony with your horse, and bringing joy into your riding. Her books include: The Natural Rider (1987), Ride With Your Mind (1987), Ride With Your Mind Essentials, Ride With Your Mind Masterclass (1991), For the Good of the Rider, For the Good of the Horse, Ride With Your Mind Clinic: Rider Biomechanics from Basics to Brilliance (2008).
Visit: www.Mary Wanless.com.