By Jennifer Klitzke
'Smooth' is the reason I bought my first naturally gaited horse in 2007. Yet I was surprised to discover that my horse came with a full gamut of 'smooth' and 'bumpy' gaits. At times it was hard to know what was going on beneath me when my horse switched from a smooth natural four-beat gait to a pace, stepping pace, rack, flat walk, fox trot, and hard trot within a matter of strides. I quickly learned that 'smooth' was something I had to train my horse to be consistent with. And just how do you do that?!
I have met so many people who become discouraged when their gaited horse won't gait. Many resort to unnecessary gimmicks like weighted shoes, unnatural hoof angles, and harsh bits to make their horse gait‒only to get further discourage when their horse gets tense, reactive, and even less smooth.
There is a much better way.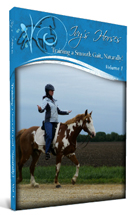 Back in 2007 when I first began training my three-year-old Tennessee walking horse Makana, there were few naturally gaited training DVDs on the market. Today a few more, like Ivy Schexnayder's DVD: Training a Smooth Gait, Naturally! in which she draws upon ten-years experience training gaited horses using natural and humane training techniques. Ivy's 70-minute DVD for only $39.95 shows the smooth four-beat gaits in regular and slow motion of several gaited breeds as Missouri Foxtrotter, Tennessee walking horse, Paso Fino, and Rocky Mountain, as well as the bumpy lateral gaits as pace and stepping pace and diagonal gaits as trot and broken trot. Seeing and hearing the footfalls in regular and slow motion have really helped me identify what my horse is doing beneath me as I ride.
There are many variations of gaits between the gaited breeds where terminology can get confusing. Ivy further simplifies the gaits into two training categories: 'smooth' and 'bumpy.' She offers no-gimmick, humane, and natural training strategies that effectively break up pace and trot. Plus, the DVD covers real-time training through Ivy's three basic phases to lead your gaited horse into a naturally gaited smooth ride. Ivy demonstrates simple exercises that you can do with your gaited horse each time you ride. And if you stick with it, your gaited horse will develop a more consistent smooth natural four-beat gait in as little as 10 days. Not only that, Ivy's humane and natural training techniques will build a better trusting partnership with your horse and lead your horse into greater relaxation and balance.
I can't wait to try the cavaletti exercise with my horse! I highly recommend Ivy Schexnayder's DVD: Training a Smooth Gait, Naturally! for anyone who wants a smoother gaited horse to ride and a better relationship with their horse.
For more information about Ivy Schexnayder, visit IvysHorses.com.