30 Jan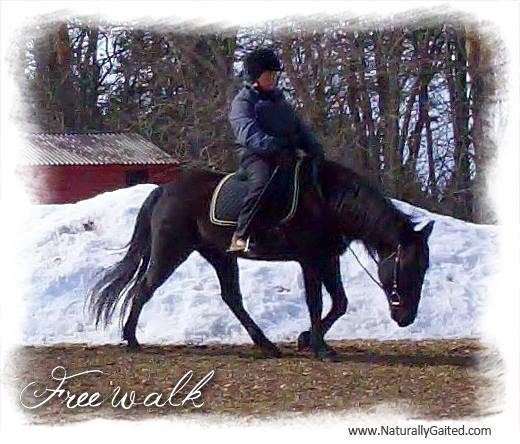 By Jennifer Klitzke
Next to "how do I get my horse to gait?" is another common question I hear gaited horse owners ask: "How do I stop my gaited horse from pacing?" This question comes up at every gaited dressage and gaited horsemanship clinic I've attended. Among the use of ground rails and transitions, every clinician I've heard agrees that working your gaited horse in a long and low position is essential in transforming a high-headed, hollow and stiff-backed pace into a relaxed, smooth, four-beat gait.
In dressage terms, long and low is called freewalk on a long rein. It is required in all dressage tests—Introductory through Advanced—and it is the way riders are asked to leave the arena after the final halt and salute.
Freewalk on a long rein is more than just allowing the horse a long rein to stretch its head and neck out and down. The freewalk has great purpose: it stretches and strengthens the top line muscles, it develops depth of stride as the horse reaches beneath its body with its hind leg and over tracks the fore footprint, and the lowered head and neck position stimulates endorphins to relax the horse. The freewalk is a great way to begin and end every ride with a couple stretch breaks in between—as long as the horse is in balance.
Recently I've had the great privilege of auditing two great clinicians who came to my region: International riding bio-mechanics coach Mary Wanless and Grand Prix rider Heather Blitz. Both challenged riders to not only become aware of riding in a balanced position, but to become aware of the horse's balance so that they are more proactive in maintaining it.
Heather explained the feeling of a horse's balance in a metaphor. While riding, imagine if your horse had a medicine ball which is free to roll around its insides. Where does the weight of the medicine ball rest? Does it feel like it is in the horse's chest or under your seat?
This metaphor has helped me discover that often the weight of the medicine ball feels like it sits in my horse's chest—which means my horse is out of balance and on the forehand. Thinking about this, if I were to release my horse into a long and low frame while her balance is on the forehand, what quality of freewalk would we produce? Likely my horse would begin pulling herself forward with her front legs and her hind legs would step more behind her tail instead of stepping deep beneath her body with overtrack. So now that I've become aware of my horse's balance, I need to correct it BEFORE releasing the reins for freewalk on a long rein.
When my horse is in balance it feels like the medicine ball is right beneath my seat. So each time it feels like the medicine ball rolls into my horse's chest, I need to transition from walk to halt and back to walk. If the medicine ball still feels like it is in the chest, then I need to transition from walk to halt with a couple steps of rein back to feel the medicine ball roll beneath my seat. Once I feel the medicine ball under my seat, that's when I allow the horse to take the reins long and low for a freewalk on a long rein feeling her step deeply beneath her body like shown in the top picture.
Freewalk on a long rein is a great way to break pace in the gaited horse into a smooth four-beat gait, improve depth of stride and relaxation. Just remember to begin with balance to maximize your efforts.