29 Mar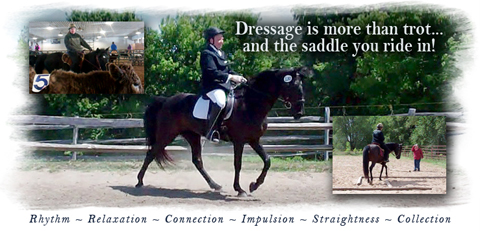 By Jennifer Klitzke
"Dressage is more than trot…and the saddle your ride in."
-Jennifer Klitzke
Dressage is for gaited horses, too!
Whether you ride english or western; whether your horse trots or gaits; whether you show dressage or not, it doesn't matter. As long as you have rhythm, relaxation, connection, impulsion, straightness, and collection, your right in line with the dressage training scale.
That's not all! Dressage training improves your relationship with your horse. I know it has mine. Dressage training has made it possible for me to give versatility a try. Pictured above is me and my naturally gaited walking horse at our first shots at working with cows and trail obstacles. I was amazed how well she did! Dressage training has made my horse be more maneuverable around obstacles and while working with cows. We depended upon each other to negotiate the situation and applying the aids we have learned while schooling in the arena, made all the difference!