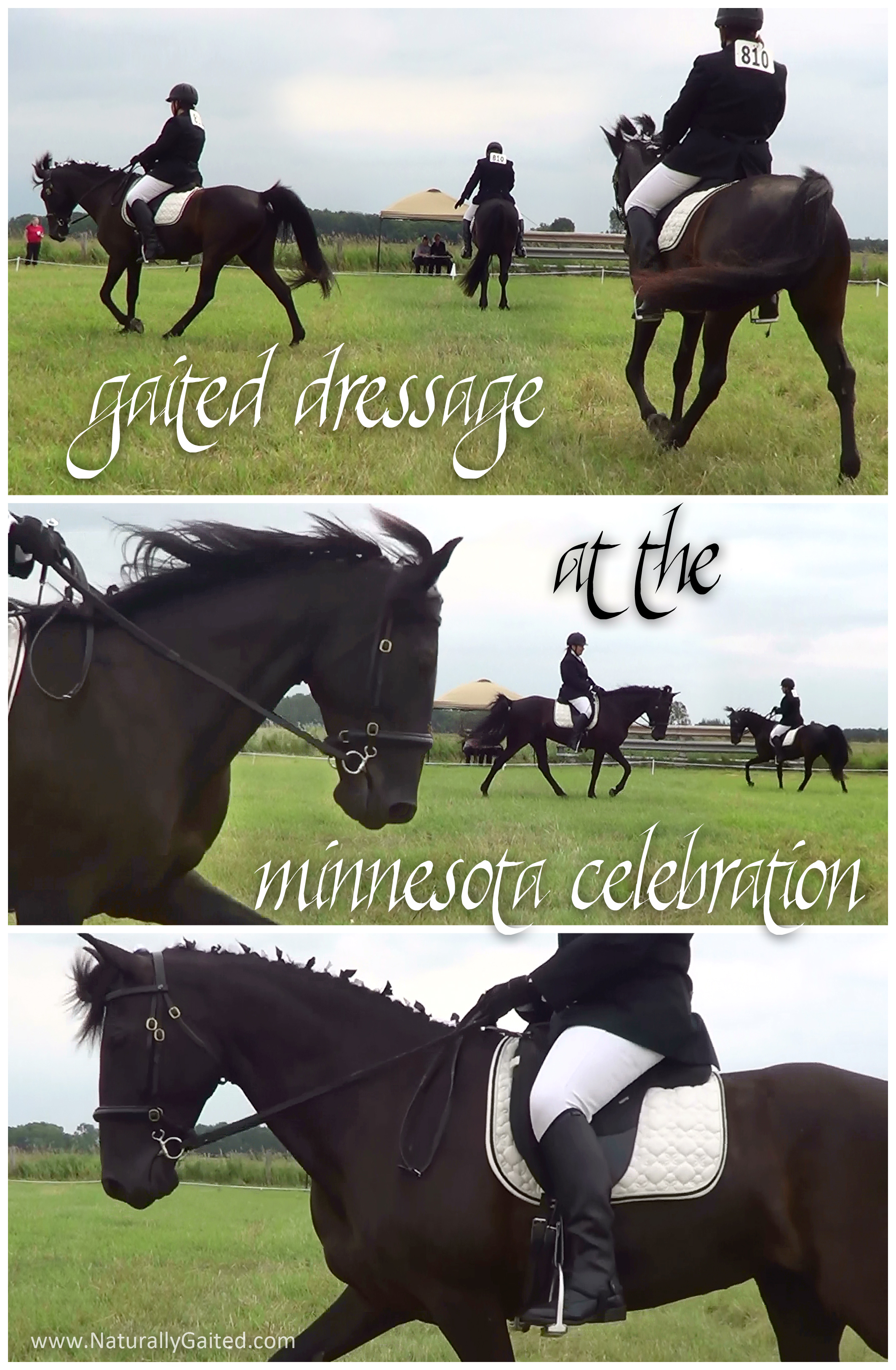 By Jennifer Klitzke
When the Minnesota Walking Horse Association asked if I would be willing to help set up the dressage arena for the first ever gaited dressage classes offered at the 2014 Celebration Show, I gladly accepted. I'm all about supporting the cause for gaited dressage and advancing the use of natural and humane training methods.
So after my workday, I drove an hour and a half to Hinkley, Minnesota where Sally Frones and I (two grandma-aged women) measured and pounded stakes to mark the perimeter for a 20 x 40 meter dressage arena which was a perfect size for the beginner-friendly tests which were selected: FOSH Introductory One (working walk, free walk); FOSH Introductory Two-Gait A (working walk, free walk, flatwalk); NWHA Introductory A (working walk, free walk, flatwalk); and NWHA Training Level One (working walk, free walk, flatwalk, canter).
Sixteen dressage tests were ridden by six riders and seven Tennessee Walking Horses. For a few of the riders (and horses), the Celebration Show had marked their very first time riding a dressage test. Everyone did quite well, and I even have the pictures to prove it! Photo gallery»
Each rider was given the option of using a "reader"  who called out the next series of movements so that the rider didn't have to memorize the test.  While the rider and horse were performing each movement, the judge provided brief feedback and a score from "0" to "10" which was recorded by a "scribe" onto a score sheet after the required movements. At the end of the test, the score sheet was tallied and the highest percentage would identify the winner of the class.
The best part of riding a dressage test is that the rider gets to take home the score sheet which often provides helpful feedback from the judge. This can give the rider insights as to where they are at in their training and what to work on improving, whether it be forwardness, roundness, relaxation, balance, rhythm, and bending in the horse or rider position, precision, and delivery of aids.
I've been showing my gaited horse at open schooling dressage shows for the last four years. Not only was it fun to ride with other gaited horses at the Celebration Show, but this was the first dressage show I've been at where there wasn't even a trotting horse in sight!