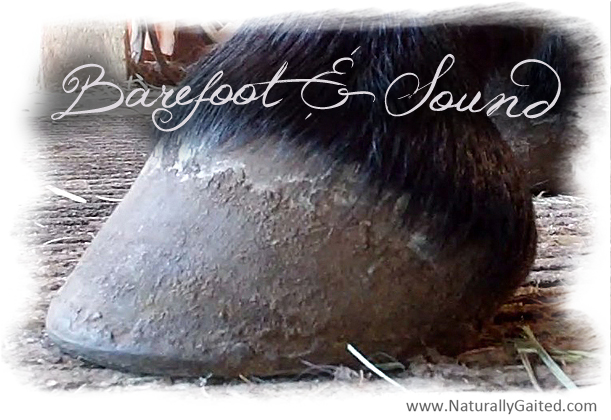 By Jennifer Klitzke
Are shoes required for showing? Do shoes make a horse sound? Can a horse perform well barefoot and sound? How I threw the shoes and discovered soundness naturally.
During the years I competed my Trakehner/Thoroughbred gelding in dressage, it was a given that sport horses wore shoes on all fours. That's what everyone did, so I did too. I didn't know any better. In fact, my horse wore shoes year round.
Then my gelding became stricken with laminitis at 12, so the farrier added pads and wedges to the shoes so that he would be sound. I believed that if I were to let him go barefoot, it would make him worse not better.
Little did I know.
In 1996 I retired my gelding from dressage competition and seven years after that I moved North to a hobby farm. There I spent the next nine years hacking with my gelding and other horses which included Makana, my naturally gaited Walking horse mare.
My horses rode barefoot because I had no intention of showing. Little did I know that barefoot was actually healing my gelding from the lameness he had—that and limited pasture and a low-carb, grass hay diet.
I continued to hire a farrier to trim my horses' feet every 6-8 weeks. I didn't know much about healthy hooves, because I relied upon my farrier's expertise.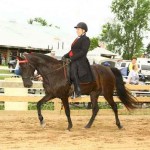 Then the Walking horse club I belonged to pleaded with its members to enter the County Fair in fear that Walking horse classes might not be offered the following year. So I took my barefoot Walking horse to a rail class show and was surprised that this group of riders encouraged barefoot showing.
At another Walking horse show, a fellow competitor discretely pulled me aside and said, "I hope this doesn't hurt your feelings, but I'm concerned that if you don't get your horse's feet trimmed correctly, she might not stay sound."
Alarmed yet grateful, I thanked this woman for the risk she had taken to open my eyes to what I hadn't seen. It was ignorance on my part to blindly trust my farrier just because he had been trimming for years.
I tried talking with my farrier about making some corrections to how my horse was trimmed. This didn't go so well, so I hired another farrier who confirmed my friend's concerns.
From that point on, I began a quest to become an educated and informed caregiver. I wanted to learn how to keep my horses' hooves healthy from the inside out.
Over the course of the next year I began to study the work of natural barefoot trimmers as Pete Ramey, Jaime Jackson, and Linda Harris of "The Happy Hoof Channel," among others, and learn about diet and its affect on soundness from sources like www.safergrass.org.
Then in 2011 my farrier had to retire, so I took the plunge and began trimming my horses. Wow, is trimming ever a strenuous job. Hats off to professional farriers. You couldn't pay me enough to do this for a living. While it's a killer on my grandma body, and it takes me 30 minutes to trim one foot, it has been rewarding for me and the handful of horses I work with.
A healthy hoof is a science. There are so many factors that affect the feet: climate, terrain, diet, conformation, workload, and genetics to name a few. Among the experts I study, there are slight to strong differences of opinion which makes me be discerning as to which approach to take. Do I trim the bars, frog, and exfoliate the dead sole or leave it alone? Do I bevel the wall or not? Are the feet round or oval?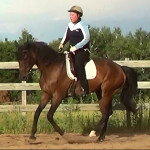 For me, I like to feed a low carb diet, grass hay, limited and strategically timed pasture turnout, and keep my horses on a regular trimming cycle of 4-6 weeks. Since I began trimming in 2011, my retired Trakehner/Thoroughbred gelding began to move better than ever at the age of 27 than he did at 12.
So, whether you ever end up trimming your horses hooves or not, I highly encourage you to become an educated caregiver. Having faith in your farrier is great, but it pays to understand the inner and outer workings of the hoof.