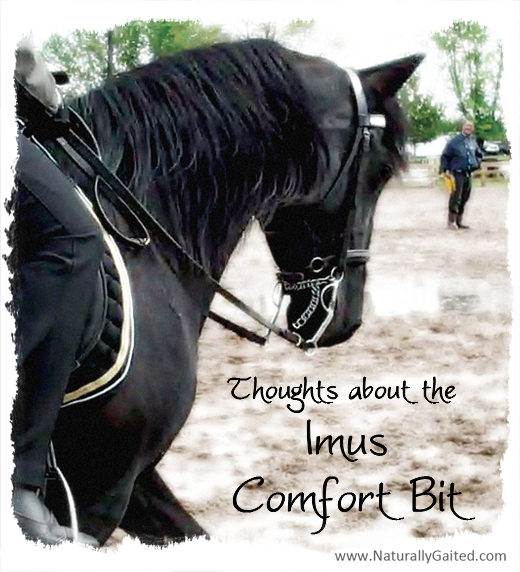 By Jennifer Klitzke
Coming from 20 years of dressage riding on trotting horses and riding exclusively in a double-jointed, loose-ring snaffle, a curb bit was as foreign to me as head-shaking, ear flopping, and teeth clicking.
It had only been weeks after purchasing Gift of Freedom, my first gaited horse when I came to the 2007 MN Horse Expo on a quest for knowledge. After talking with the Minnesota Walking Horse (MWHA) demonstration riders and joining the MWHA, I watched a clinic given by the late Brenda Imus, a naturally gaited horse expert as she instructed several gaited riders. Intrigued with her teaching, I followed her back to her booth and purchased her DVD "Gaits from God."
The DVD described the action various bits made in a horse's mouth, including the bit Brenda designed, the Imus Comfort Bit. I loved her study and methodology in her bit design, and the before and after footage of a naturally gaited Tennessee walking horse got my attention. The horse was first ridden in its traditional Walking Horse curb bit and then in the Imus Comfort Bit. While ridden in the Walking Horse bit, the horse threw its head up with each head nod in a pain reaction vs. a bit acceptance. But with the Imus Comfort Bit, the horse's movement was fluid, relaxed and loose through the body, and its head knod was dramatic.
I had to try the Imus Comfort Bit for myself and am simply amazed with how much better my horse rides in it. Her head shake is deeper, freer, and straighter; her ears flop consistently and I even hear an occasional click of her teeth. She's very responsive with a very light contact, and she spooks less when I ride in this bit, so I feel safer.
The only downside is that it is not a recognized dressage bit so I am unable to use it when I show gaited dressage. But for the trail and for rail class shows, the Imus Comfort Bit is what I use.
For more about the Imus Comfort Bit, visit: PhoenixRisingSaddles.
Video: Imus Comfort Bit in action