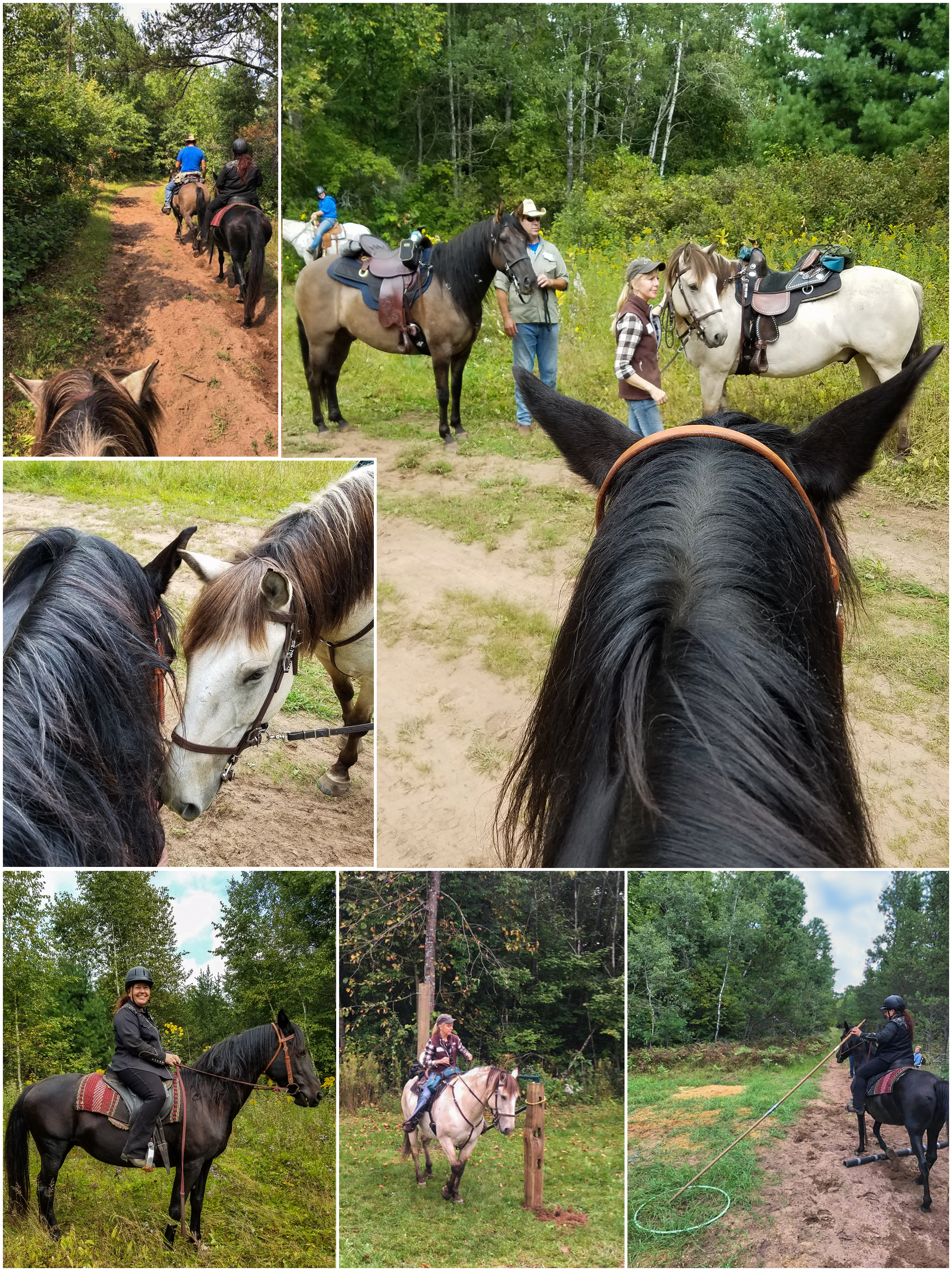 By Jennifer Klitzke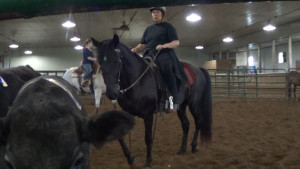 Next to the 2017 August Cow Sorting League with our personal best by leaps and bounds (5th of 17), I'd have to say that riding the Trail Challenge at Governor Knowles State Forest on September 3, 2017 with Stephanie, Brian, Indy, Lefty and Lady was one of the best memories of the summer.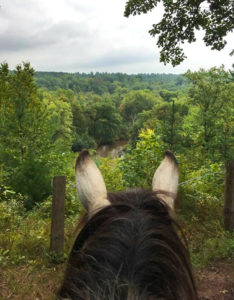 Earlier this year, I made the heart-felt decision to sell my Spanish Mustang Indian's Legend back to his previous owner, Stephanie. My Dad had passed away after an illness and my life circumstances had changed. Indy wasn't happy as a backyard dressage horse. He missed our weekend-get-aways.
As much as I miss him, my heart is happy and at peace  knowing that Indy is with Stephanie and Brian who love him like I do. Not only that, but Indy is living in his happy place and in the trail horse dream: miles and miles of mature forests and river crossings every weekend with lots of pasture space to goof off with his fellow Spanish Mustang comrades.
Stephanie had checked in with me a couple weeks prior to the Trail Challenge at Governor Knowles State Forest. I quickly got naturally gaited foxtrotting horse Lady up-to-date on a Coggins so that I could join her and Brian.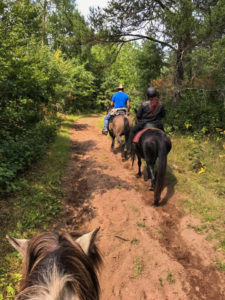 What an amazing day: enjoying their great company, great scenery, great horses, great weather, and challenging obstacles, with the added bonus of several river and bridge crossings to boot! A first for Lady.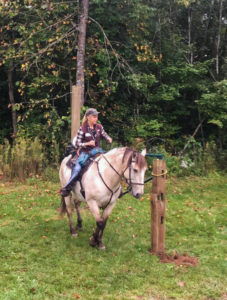 It was so fun to watch Indy and Stephanie eat up those trail obstacles. They gave Lady and five-year-old Spanish Mustang Lefty courage to give them a try. There were six obstacles along a 10-12 mile trail through scenic mature forest, ferns, wildflowers, butterflies, and songbirds. The footing was perfect for naturally barefoot horses like the three of us were riding. It was a comfortable temperature and the sun made its brilliant appearance mid-point of the ride.
There were two divisions, the just-for-fun and the jackpot. I entered Lady in the just-for-fun since this was her first obstacle challenge. Stephanie and Brian opted for the jackpot—why not—no doubt Indy was up for the challenge!
The first of six obstacles was opening and closing a gate without letting go. After closing the gate, then maneuvering to a barrel and  picking up a clanger. Then navigating through two poles and ringing the "come-an'-get-it-dinner-is-ready triangle three times in two minutes or less. I was amazed how afraid Lady was of the gate. At home, all she wants to do is open and close the gate herself! Dang! We danced around the gate until the two minutes ran out.
The jackpot level had to back out of the rails after clanging the triangle in the same amount of time. Indy and Stephanie did this obstacle really well.
The second obstacle was navigating the horse through a wooden ladder in two minutes or less. The horse had to step within the narrow ladder prongs, turn on the fore and return through the narrow ladder prongs. After Lady realized that the ladder wasn't going to eat her, she killed this obstacle—even on a loose rein!
For those in the jackpot level, they had to side pass the ladder in the return. Indy rocked this obstacle! I wish I had video to show for it!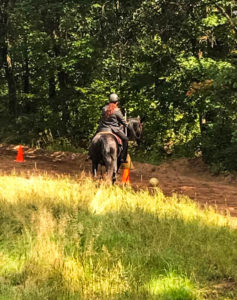 The third obstacle was broom balling a heavy soccer ball with a wispy broom through a goal in two minutes or less. Sound simple? Yes, in reality. Yet, it was very difficult. Lady as well as many of the horses seem to have ball phobia. (Peeps, practice makes perfect! Until next time. Right!)
The jackpot level had to WEAVE the ball through a set of cones and into the goal. Stephanie and Indy made it look easy and received the fastest time thus far. WAY TO GO!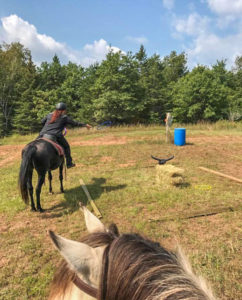 The fourth obstacle was a ring toss. The horse and rider needed to pick up rings placed on a barrel next to a super spooky skeleton. Then the rider needed to position the horse at a rail and toss a ring to loop onto a steer horn, then advance to the next rail and do the same.
The just-for-fun level had four rings and the jackpot level had eight rings to pick up and toss in two minutes or less.
I congratulate Lady for her effort. Me, on the other hand, ugh. I did not navigate the rings anywhere near the horn. Stephanie and Indy ringed several on the horn. Well done!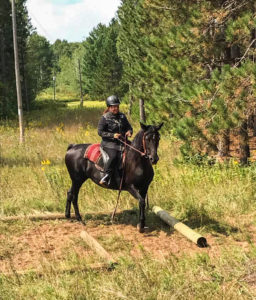 The fifth obstacle was a log maze. The just-for-fun level had to pivot through the log maze, do a turn on the fore and return through the log maze. Lady rocked this obstacle. We've been working on these exercises all summer and it paid off.
The jackpot level had to pivot through the log maze and then rein back through it. Stephanie and Indy killed this obstacle as well!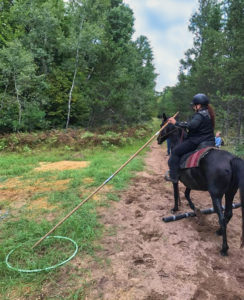 The final obstacle was picking up a pole where the end of it needed to remain in a hoop while the horse and rider rode in a circle and over two rails and back to the starting point in two minutes or less. Lady's initial try didn't go very well as she ran away from the pole that was chasing her. Since we had two minutes, we had time to give it another shot and we maneuvered our way through the obstacle with flying colors and time to spare.
The jackpot level had to do this obstacle with a turn on the fore after the first circle and then ride the opposite direction before returning to the starting point. Indy and Stephanie rocked it again! I was sure that they would be in the money!
Between obstacles the horses rode together terrifically. Spanish Mustang Lefty has such a large, scopey walk that Lady and I fox trotted the entire 3-1/2 hour JOY ride! (I don't think that Stephanie minded trotting and cantering Indy to keep up!)
I know that there are strains of Spanish Mustangs that have a natural four-beat gait. I wonder if Lefty is one of them. He is a stunning example of the Spanish Mustang. Several riders along our route stopped and asked what breed of horse Brian and Stephanie were riding. I was so happy, none of them asked: "Is that a Norwegian Fjord?" (Really, I have nothing against this breed. I really do like them. It's just that Spanish Mustangs are not Norwegian Fjords.)
One woman asked what type of horse I was riding. (Yes, it is clear that Lady is NOT a Norwegian Fjord). Of coarse, Lady is anyone's best guess since she isn't registered. When my friend bought Lady, she was told that she was a Tennessee walking horse (in part). This woman replied, "I think the horse you're riding is a Tennessee walking horse/Morgan cross." Hallelujah! This affirms my thoughts in movement, intelligence and temperament. When Jennie Jackson was in Minnesota giving us lessons, that was her thought, too.
It was a great time had by all—people and horses. Walking Lady back to the trailer, I could hear Indy whinnying through the trees, "Until next time, my friends, until next time!"
Photo Gallery: (Click to enlarge)
Stay connected by subscribing to the Naturally Gaited youtube channel and liking and following our community on facebook.com/naturallygaited.