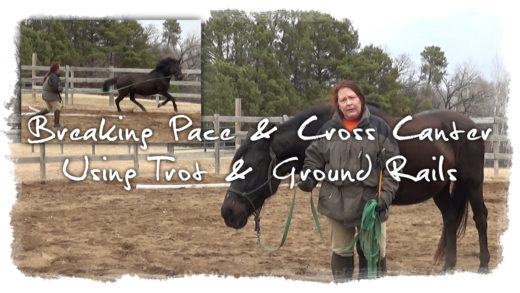 Breaking Pace & Cross Canter Using Trot & Ground Rails
By Jennifer Klitzke
Most owners of gaited horse who have a pacey horse or a horse that cross canters don't refine the pace and cross canter, they work to break up the lateral gait for a four-beat gait and true canter.
My gaited dressage mentor Jennie Jackson taught me that the pace and the cross canter are lateral movements while the trot and true canter are diagonal movements. Using trot over one or two ground rails can help break up the lateral movement for a more diagonal movement.
For the pacey horse, one or two ground rails can help break up the pace and help the horse learn to trot. One ground rail can help correct cross canter any time the hind legs are traveling in the wrong lead. When the horse hops over the ground rail they often correct the hind legs to the true lead.
For me, the most important aspects of this exercise is to establish:
Introduce the rails and lunge whip so the horse isn't afraid of them.
Encourage the horse to find relaxation, balance, rhythm and impulsion at the walk, trot, and canter. If the horse gets tense or loses its balance, bring the horse down to a walk or trot and start over.
Teach the walk, trot and canter on cue and in a quality way of going to build the correct muscles. Don't let the horse decide its gait, blast off into tension, or travel continually in a hollow ewe neck frame. Seek to teach gaits that build the top line muscles, encourage a deeper stride under the body, are balanced, and a develop a relaxed rhythm.
Video: Breaking Pace & Cross Canter Using Trot & Ground Rails