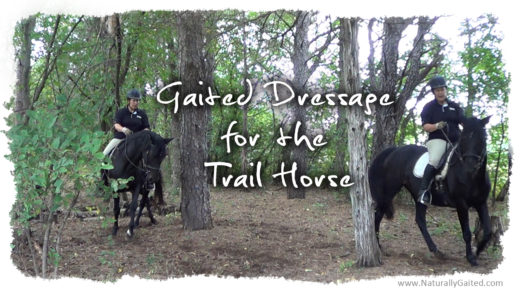 by Jennifer Klitzke
Have you longed to learn dressage with your gaited horse, yet have a trail horse that detests arena work?
Not all horses are wired the same. That includes my friend's naturally gaited horse Lady. My friend asked me to work with Lady and see if I could bring out a smooth gait—something between the dog walk and a hard bouncy trot.
I began riding Lady in the arena, because that's how I've introduced dressage to all of the horses I've ridden over the years.
Lady is a marvelous trail horse, and I quickly discovered that she didn't understand the purpose of repetitive 20-meter circles without a change of scenery!
Instead of fighting with her, I took Lady to her happy place—the trail. And that's where we worked on our gaited dressage. We used natural obstacles to maneuver around such as trees and the fire pit. Then we would leg yield from one side of the path to the other, followed by a soft halt, gentle and slow rein back, to a walk, and then transition to her easy gait for a few strides before transitioning back to a walk.
Changing up the requests along the way did three things:
1) Instead of being a passenger, I became an active participant in our relationship,
2) It gave Lady a reason to stay dialed in to me instead of relying on her fight and flight instincts.
3) Working together developed a partnership of trust.
While on the trail Lady began to ride the elements of a low level dressage test, and she seemed to enjoyed herself.  Come to think of it, so did I. Our ride became a dance; a partnership. Lady became more relaxed, more balanced, and in more rhythm. She began to listen to me more without resistance and began to trust me more.
For me, dressage on the trail has become a new kind of training—training without walls in the beauty of nature which feeds my soul while freeing me of the rigidity and perfectionism that often plagues me in the arena.
Stay connected by subscribing to the Naturally Gaited youtube channel and joining our community on facebook.com/naturallygaited.