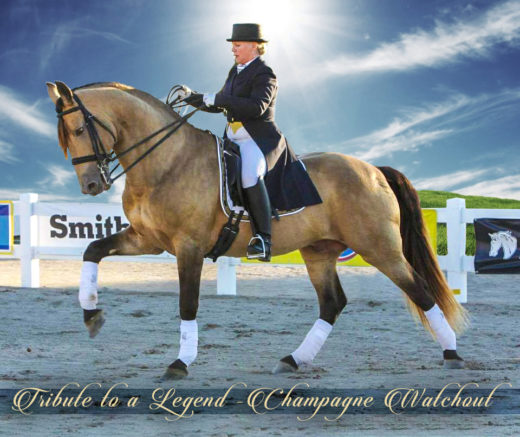 By Jennifer Klitzke
With deepest and heartfelt sympathy to Jennie Jackson, Nate, and their family in the sudden loss of their legendary naturally gaited Tennessee walking horse stallion: Champagne Watchout, who passed away on July 17, 2017 at the age of 24.
In the 1980s Jennie Jackson began applying and perfecting dressage methods of training to gaited horses. Then in 1998 she introduced dressage as a humane training alternative for Tennessee walking horses. She began to apply dressage training methods with her naturally gaited Tennessee walking horse stallion Champagne Watchout. The two defied the critics and rose through the levels of dressage [en gaite].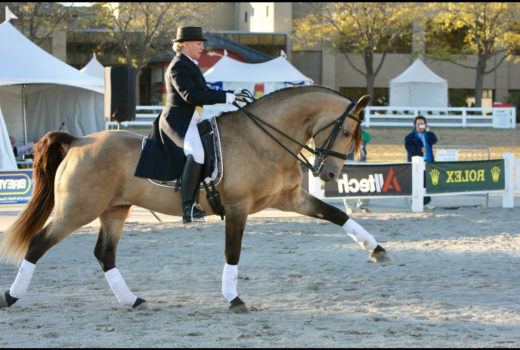 In 2006, Jennie and Champagne Watchout were the first duo in history to perform dressage en gaite at The Kentucky Horse Park in Lexington, KY. The duo demonstrated never-seen-before Prix St. George movements en gaite as piaffe, passage, half pass, Spanish walk, as well as canter pirouette, and tempe changes.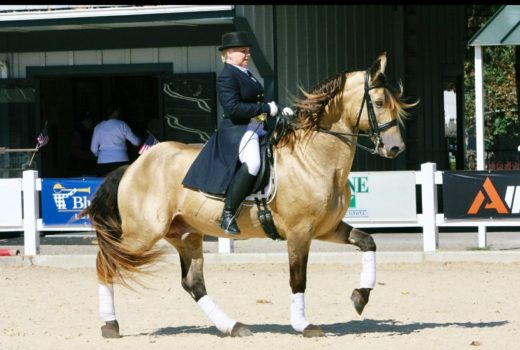 In 2010, Jennie and Champagne Watchout were formally invited to exhibit their dressage en gaite musical freestyle at the Alltech FEI World Equestrian Games. Champagne Watchout became the official Tennessee walking horse breed representative.
Video: Jennie Jackson and 16-year old Champagne Watchout performing their dressage en gaite musical freestyle at the 2010 Alltech World Equestrian Games at Lexington Kentucky Horse Park in 2010
As a life-long student of dressage, I have always longed to achieve piaffe, passage, canter half pass, pirouette, and tempe changes with my trotting horses and now with my naturally gaited horses. In my opinion, Jennie Jackson and Champagne Watchout are naturally gaited dressage legends! They performed these difficult movements en gaite with ease—something many claimed was impossible for a gaited horse.
In addition to his striking looks and athletic moves, Champagne Watchout has a powerful, jaw-dropping, head-shaking, natural flat walk and running walk that turns heads at the rail class events. Champagne Watchout earned the right to compete in the 1999 Tennessee Walking Horse National Celebration World Grand Championship class. He was the first and ONLY naturally gaited flat shod entry competing among the traditional Big Lick horses.
Video: Champagne Watchout—First flat shod horse to compete at the 1999 TWHBEA World Grand Championship Tennessee Walking Horse Class
Encounters with the Golden One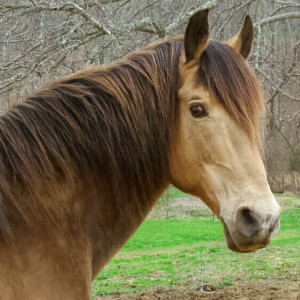 I was fortunate to have met Champagne Watchout on two occasions. In 2015 I traveled to Tennessee to ride at a Jennie Jackson Dressage for the Gaited Horse Clinic and I got to meet this gentle, golden stallion. Even with his winter fuzzies, Champagne Watchout was a standout.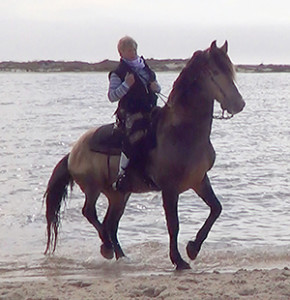 The next year, I returned to the South to ride with Jennie Jackson as a working student. While I was there I had the privilege of watching Jennie ride her barefoot, 22-year-old gaited dressage stallion Champagne Watchout.
Back then Champagne Watchout was the ONLY Tennessee walking horse still living among those he had competed against in the 1999 Tennessee Walking Horse National Celebration World Grand Championship class.
I was privileged to watch Jennie ride Champagne Watchout at Amazing Gaits, piaffe and passage along the ocean coast, and dance to the music during the Marti Gras parade.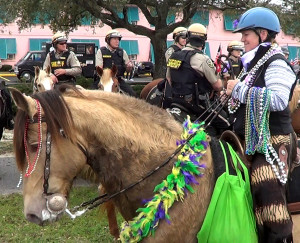 Champagne Watchout was the first horse eager to step into the wavy coastline and gave the rest of the Amazing Gait's horses confidence. In no time all of us were flat walking in the ocean.
And through the Marti Gras parade at 22 years old Champagne Watchout still had all the moves!
We will never forget you, Champagne Watchout. You have inspired multitudes and left an amazing legacy that will live on.
Videos
Early years: Champagne Watchout at play and under saddle with Jennie Jackson
2012 Champagne Watchout with Jennie Jackson at the TWHBEA World Versatility Show