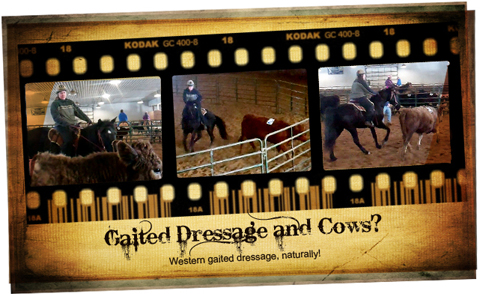 By Jennifer Klitzke
What do you get when you blend dressage with a gaited horse and cows? An application of western gaited dressage, naturally!
I took my Tennessee walking horse Gift of Freedom (Makana) to an "Introducing Your Horse to Cows" Clinic held at Hi Circle Vee Ranch in Isanti, MN. We were the only gaited team among 19 quarter horses, paints and appaloosas which turned a few heads and raised usual the question, "What kind of horse is that?"
This clinic was a terrific confidence booster for both horses and riders of all ages. Horses were gradually introduced to cows over the fence and then individually in a round pen with a coach. We let the horse slowly walk up and sniff the cows and then picked a cow to follow. Once each horse discovered that they were empowered to move the cow, their fear was replaced with confidence.
I had a hunch that once Makana realized she could move the cows, her gift of bossiness would take over. And was I ever right! Within a minute she was pushing the cow along with little help from me.
After we moved the cow around, we were coached to ride ahead and cut the cow off to change directions and keep the cow from joining the herd. The sneaky cows figured out a way to make a break back to the herd and that's where the dressage training really paid off. It became a game between horse and cow and strategy on the part of the rider. Lots of changes of direction, transitions from walk, canter, gait, halt, bending, turning on the forehand, and turning on the haunches. Only the beautiful expression of riding on the bit was thrown out the door when my horse turned cowy and developed the desired pinny ears and death stare.
It was a super fun time to get out of the frozen tundra and try something new. I'm lucky to live near two barns that offer open sorting and team penning practice each week. Stay tuned, there might be more of this in our future!
Video: Introducing my gaited horse to cows
Video: Gaited dressage and cows coaching session