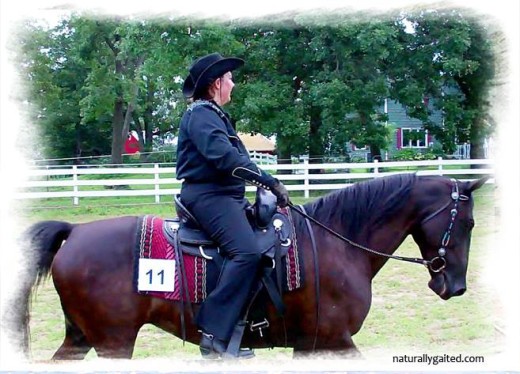 By Jennifer Klitzke
Love to give dressage a shot, but wouldn't be caught dead riding in an English saddle? Long to show your gaited horse in dressage but there aren't any shows in your area? Just want to get feedback from a professional as to where you are at in your dressage training with your gaited horse but have no interest in showing before a crowd? Have a desire to compete but can't afford the cost of showing? Well, here's super exciting news for you!
Friends of Sound Horses (FOSH) and North American Western Dressage (NAWD) have recently formed an alliance partnership. Both organization hold common ground in fostering the mental and physical well being of horses for lifetime soundness. NAWD has developed a platform for Virtual Schooling Shows where you can record your dressage test from your own backyard. Then upload your video for critique by a professional judge where you'll receive feedback on where you are at in your training. Here's the exciting part: This Virtual Schooling Show platform has been expanded to include GAITED horses under a category "Gaits Wide Open."
Last year, FOSH introduced a Gaited Dressage program for live showing where you submit copies of your tests at the end of the year for awards. In addition to the Traditional live show category, FOSH has expanded the Gaited Dressage program to include a "Virtual" category using the NAWD Virtual Schooling Show "Gaits Wide Open" platform.  The FOSH Gaited Dressage rules apply to both the Traditional and Virtual categories. Each category will be awarded separately, yet you may choose to participate in both. The FOSH Virtual Schooling Show "Gaits Wide Open"category is open to Western (and English) gaited dressage using any of the tests included in the FOSH Independent Judges Association Manual for Gaited Dressage (pdf). All Virtual Gaited Dressage tests will be judged by licensed IJA dressage judges.
This exciting collaboration between FOSH and NAWD allows for inclusive competition with other gaited horse and rider teams worldwide without ever leaving your backyard!
---
For more information about the FOSH Gaited Dressage Program, visit Friends of Sound Horses Gaited Dressage Program.
For more information about the NAWD Virtual Schooling Shows, visit North American Western Association Virtual Schooling Shows.