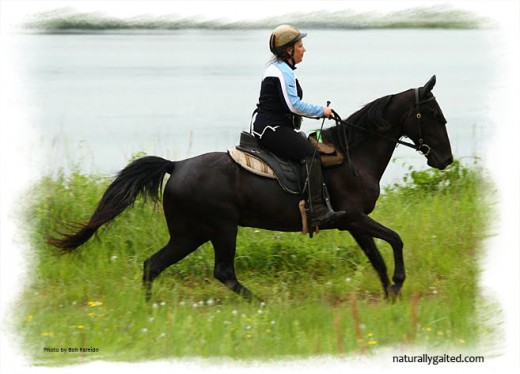 By Jennifer Klitzke
Minnesota Distance Riders Association (MnDRA) sponsored the Mosquito Run held at Crow-Hassan Park Reserve July 13-14, 2013. The event was appropriately named: when you see mosquitoes…RUN!
Lots and lots of mosquitoes kept me and my Tennessee walking horse Gift of Freedom (Makana) on pace at our first ten mile novice endurance ride. MnDRA sponsors several long distant rides that range from 10 miles, 25 miles, 50 miles, and 100 miles in several divisions: competitive, long distance and novice. Each ride begins and ends with an official vet check. Horses are checked and scored for hydration, soundness, pulse, and respiration. The results are calculated with the time for the final score. The goal is to safely complete the ride on course within the designated time and be rested for the post-ride vet check which is scheduled 10 minutes after reaching the finish line.
The mid-summer weather conditions couldn't have been better: mid-70s, overcast, and breezy. The event drew lots of Arabians, a Spanish Mustang, and a few gaited breeds as Paso Finos, an Icelandic, and a Rocky Mountain Saddle Horse. Makana was the only gaited horse in our 10-mile novice group of five led by my friend with a handy GPS speedometer. Our strategy was to reach the two mile marker 30 minutes from ideal time so that we could slowly walk the remaining ride and give our horses a chance to pulse down for the post-vet check.
At a walk my TWH is usually faster than the non-gaited horses, but the tables were turned when the group moved to a brisk trot. Makana quickly fell behind in a flat walk. Then she began to mimic the other horses by trotting until I said, "Ah, that's not why I brought you to this, my dear." It took about 15 minutes for Makana to discover just how fast of a gait was needed to keep up with the trotting horses. Getting there I think we covered the full gait spectrum: flat walk, trot, canter, pace, and rack until she settled into a nice running walk. Endurance riding is exactly what Makana needs to think "forward."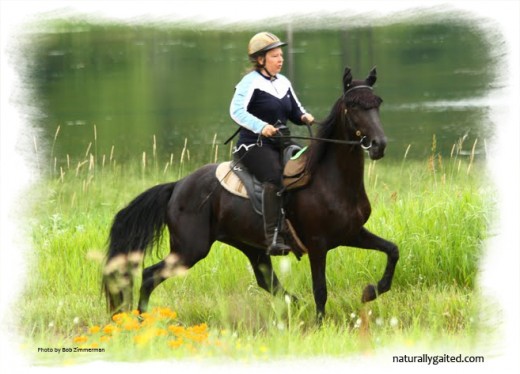 Friday's heavy rains collected many large puddles through the first two miles of woodlands which slowed us down quite a bit. When we reached the dry open prairie, we made up time at a hand gallop. This saved our final two miles for walking which helped the horses pulse down for the final vet check. That was the mosquitoes' strategy. They waited at the two mile marker for us when they knew we couldn't run away!
Thanks to my friend and her handy GPS speedometer, we reached the finish line exactly two hours from the start. (Now if only I could get my gaited horse to trot in hand for the vet check.) Well, maybe next time!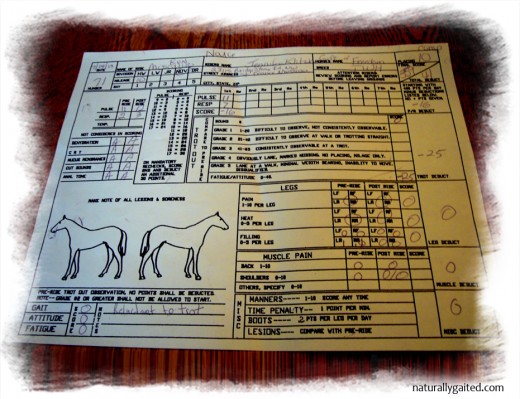 A huge "thank you" to MnDRA for hosting the Mosquito Run. What a terrific group of fun people. And an enormous "thank you" to the event photographer Bob Zimmerman for taking such fantastic photos. I doubt anyone had more mosquito bites than Bob! For more about the Minnesota Distance Riders Association, visit their open group on Facebook: MnDRA.