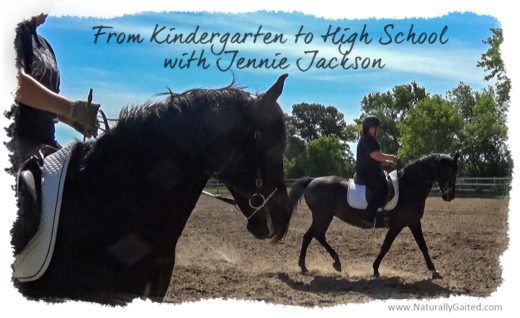 By Jennifer Klitzke
Over the last 30 years I've ridden with lots of professional riding instructors—both local teachers and traveling clinicians—gaited and nongaited. No doubt, I wouldn't be where I am today without quality instruction. My hope in attending each lesson and clinic is to learn new insights to help me become a better rider and communicate more effectively with my horses.
Gaited Dressage Legend Jennie Jackson is among my favorite instructors. She generously shares from her rich treasure chest of knowledge and decades of proven experience.
Since 2013, Jennie has imparted knowledge and pushed me beyond what I thought my horse(s) or I could do. She challenges us to the next level of difficulty—whether that is starting canter on a new horse, facing my fears, improving the quality of gait, or advancing to counter canter, simple changes, roll backs, and lateral exercises.
Lessons with Jennie have catapulted me and my horses to new heights quicker than any other dressage instructor (gaited and nongaited) I've ever ridden with in the 30 years I've been studying dressage.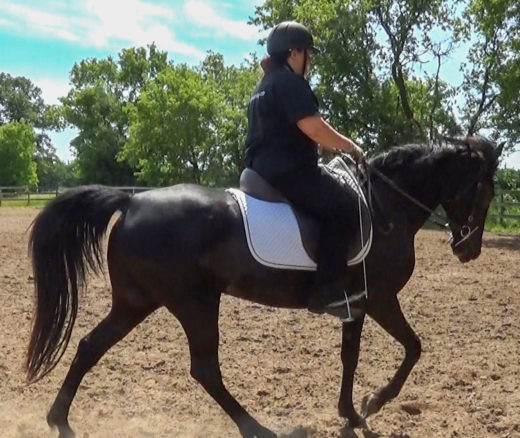 Not only that, Jennie is a national gaited horse judge, and over the last four years she has helped me and my naturally gaited Tennessee walking horse, Gift of Freedom (Makana) develop and improve a head-shaking, deep-striding flat walk and running walk.
How it all began
In December 2012, I purchased Jennie Jackson's DVD set with my Christmas money. Watching the DVDs, I was impressed to witness gaited horses moving in collection, engagement, and forwardness—working the lateral exercises in softness and suppleness. It amazed me that Jennie had trained her Tennessee walking horse stallion Champagne Watchout to the highest levels of dressage and performed before a live audience. These are two things that are extraordinarily difficult to do, and to date, Jennie is the only one in history to have accomplished both. Jennie Jackson is a Living Legend!
After watching the DVDs, I asked Jennie if she has held clinics in the Midwest. She hadn't, so that's when I organized the 2013 Jennie Jackson Dressage as Applied to the Gaited Horse Clinic and 2014 Jennie Jackson Dressage as Applied to the Gaited Horse Clinic in Minnesota.
The following years I flew to Tennessee to ride at a 2015 Jennie Jackson Dressage as Applied to the Gaited Horse Clinic, and I flew to Alabama to be Jennie's working student in 2016.
This year, Jennie happened to be traveling through Minnesota on her way between clinics and that's how this year's lessons took shape. I had contacted nearly a dozen gaited riders who live near me to see if they would be interested in lessons. That didn't work out, but no worries, Jennie gave me and my two naturally gaited horses, Lady and Makana, an inspiring and challenging education.
Lessons with Lady
Lady has been at my place for three years, and as of April 2017, she became my newly acquired naturally gaited horse. I have been thrilled with Lady's progress this spring and summer and astounded with where Jennie took us in our lessons—moving from kindergarten to high school through connection, softness, lightness, balance, lateral exercises—and even canter under saddle!
Lady is moving more consistent in a light contact. She is more supple in her bending and is moving with more engagement in her easy gait.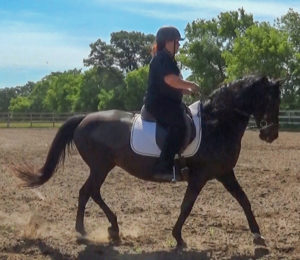 To establish bend, suppleness, softness, and connection from the inside leg to the outside rein, we worked on lots of true bend and counter bend at a walk and collected soft trot. The soft trot is not a true two-beat diagonal gait. It is an easy gait somewhere between the fox trot and hard trot—yet smooth to ride.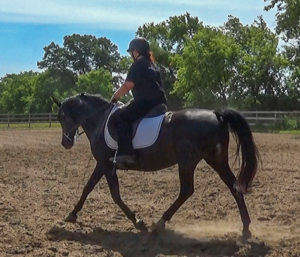 We also worked Lady in a 20-meter circle and along the rail in a forward hard trot between true and counter bend. This improved her engagement and straightness.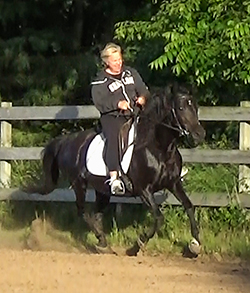 Then we introduced canter under saddle. I had been working on canter with Lady in the round pen over rails to break the cross canter. During our lesson, Lady was taking her left lead clean, so we focused on her right lead. Instead of cross cantering, she kept choosing counter canter. With Jennie's determination, coaching and perseverance, Lady began taking the right lead canter in all three lessons.
I am thrilled to have both of my gaited horses cantering now thanks to Jennie.
Lessons with Makana
It's been a few years since Jennie had last seen my naturally gaited walking horse Makana, and I was so happy that she confirmed the path we have been on in our flat walk. Not only that, but Jennie helped us increase the tempo while maintaining the reach and depth of stride.
How? Straight lines.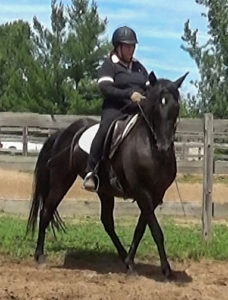 There's a place for dressage exercises on a circle with lateral movement and a place for straight lines to develop show gait. This was a light bulb moment for me.
We began our lessons with shoulder in, haunches in, true bend and counter bend on a 20-meter circle in a slow, short-strided, collected walk. Did you know that a collected walk is slower, has very little to no head nod, and the stride depth is shorter and more under the body? Yes, it's true! If you are like me, and get used to flat walk with a head nod and deep stride, the collected walk feels very foreign, but there is a place for it in the lateral exercises and it will only improve the flat walk.
Circles and collected lateral exercises are wonderful for breaking up pace, suppling and softening the horse, and getting the horse to listen to the inside leg to the outside rein, but working on a circle limits the range of motion that only a straight line can offer.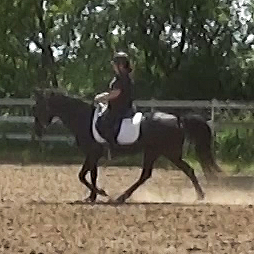 Once a horse has an even four beat gait, rail class show gait is best developed on straight lines for maximum depth of stride.
That's when we moved to the rail and allowed Makana freedom of her head and neck in a medium walk with maximum depth of stride. As soon as she became even in her rhythm and timing of her head nod, we increased the tempo while maintaining the deep steps. Alternating a tickle with my heel as Makana's hind foot stepped under her body helped deepen her stride. If she rushed off in short strides, I applied a half halt and I would start again.
When Makana found her rhythm and timing at a faster tempo with deeper strides, I just enjoyed the glide ride.
In addition to working on show gait, Jennie coached us on canter, halt, rein back, canter transitions and canter, counter-canter transitions. Riding the canter on a 20-meter circle in counter bend before executing the counter canter really helped hold her together through a full figure eight and back to the true canter lead.
To book Jennie Jackson for lessons, clinics, and expos, visit www.4beatdressage.com.
Stay connected by subscribing to the Naturally Gaited youtube channel and liking and following our community on facebook.com/naturallygaited.