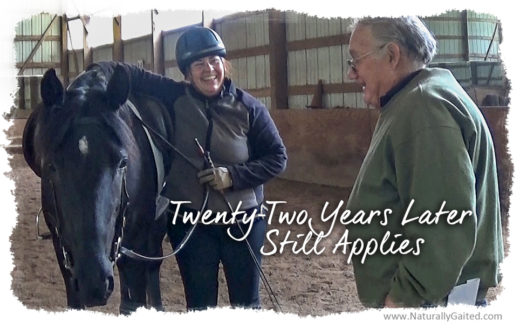 By Jennifer Klitkze
Twenty-two years ago Dominique Barbier traveled to Minnesota for a clinic and introduced me and my German warmblood, SeilTanzer, to the French dressage method of riding with lightness and harmony. Not only did I become acquainted with Barbier's dressage methods, I came to know a fun-loving fellow and clinic participant named Fred Kappler, who traveled from Michigan with his American warmblood, Aden.
I never imagined that our paths would cross again. And when they did, Fred helped me see that Barbier's methods still apply—even to a naturally gaited Tennessee walking horse.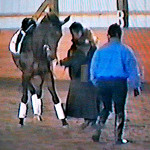 In 1995, I felt like a traitor attending Barbier's clinic. You see, Seili and I had invested several years studying the German dressage system. That's all that what was offered in my area. Yet my heart yearned for lightness, partnership, and harmony with my horse. I got a taste of this at the Barbier clinic.
The last few years I began studying the French dressage work of Philippe Karl and Jean Claude Racinet, and I have ridden at a few French dressage clinics with traveling clinician Susan Norman who has been a long-time student of both Karl and Racinet. I also rode with Nicole Walters at Cadbury Farm who has passed her first leg of certification in Philippe Karl's School of Légèreté.
Flash forward 22 years after the Barbier clinic. (Yes, Seili is still alive at 33!) A Facebook friend informed me about a French dressage clinician coming to Minnesota named Fred Kappler. French dressage isn't common around here, so I looked into it. Fred has studied Philippe Karl and Jean Claude Racinet's teachings, has ridden with Dominique Barbier, and is familiar with gaited horses.
The clinic had filled quickly, but thankfully they made room for me and my naturally gaited Tennessee walking horse, Makana. This would be the first non-gaited dressage clinic I have taken a gaited horse to. Turns out there were two other Tennessee walking horses riding at the clinic. (It's a good thing Fred has had some knowledge with Walkers!)
During my first lesson, Fred mentioned that he rode with Dominique Barbier at Jacqurei Oaks. That's the moment I realized Fred and I had ridden together at this clinic. Now 22 years later Fred is coaching me in Barbier's methods of lunging and working in hand. Yes, 22 years later still applies—even with a gaited horse. What a moment!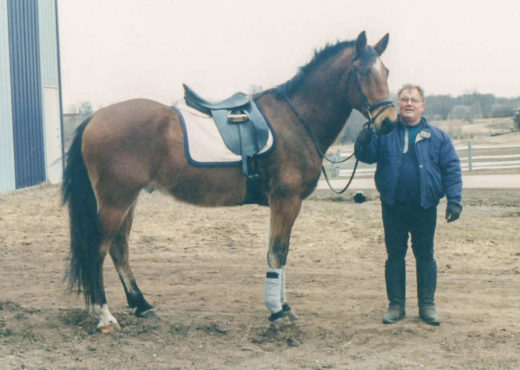 I must confess that Barbier's methods of lunging and working in hand are two things I haven't continued with the gaited horses I work with. I tend to saddle up and ride. Fred helped me see the benefits of lunging and working the horse in hand before riding.
Lunging equipment:
One side rein attached to the snaffle ring and girth at the inside of the circle; allow the side rein to be long enough for the horse to stretch forward without bringing the nose behind the vertical and short enough to keep the horse from getting strung out
A lunge line looped through the snaffle ring and attached to the girth buckle on the inside of the circle
A lunge whip to encourage the horse forward with a "snap" if the horse ignores your "cluck"
We lunged long enough to loosen up the horse (about 3-5 minutes each direction) at a walk, trot (yes, quality trot on cue) and canter with lots of transitions between gaits. Our circle size was about 15 meters. A relaxed and forward rhythm is the goal.
Teaching the gaited horse how to trot on cue, in a quality way of going, on a lunge line and in saddle, will not ruin the gait. Trot on cue will improve rhythm, balance,  engagement, and strengthen the top line muscles. The benefits a quality trot on cue offers will break pace and improve the natural four-beat gaits and canter.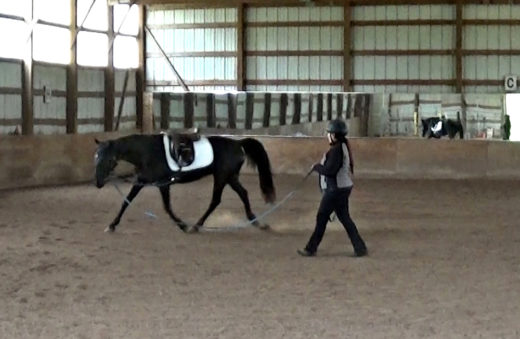 The in-hand exercises are done in both directions. The exercises are shoulder in on a square; turn on the forehand where the horse pivots around me; halt along the wall, rein back, walk forward and repeat three times; and bring the horse to a square and balanced halt.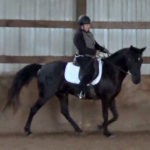 The riding exercises we did are all exercises Philippe Karl uses in his training which I need to focus on more. After watching all of the riders (gaited and trotting) I realize that beautiful gaits come after working the horse through lateral exercises which supple the horse, bring the horse into balance, engagement, and into a round and connected frame onto the bit.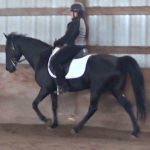 I tend to focus so much on depth of stride and head nod that lateral exercises have taken a back seat. After experiencing this clinc, my approach has been backwards! Fred's clinic clearly demonstrated that the lateral exercises done in a SLOW collected walk improve the gait quality (whether it be trot or gait). This is a game changer for me!
Fred guided Makana and I through a course of fun and interesting exercises:
Broken lines
Leg yields
Changes of rein through the half circle
Changes of direction through bends—shoulder in to haunches in to shoulder out
Shoulder in to half pass to walk pirouette to half pass to reverse half pirouette to half pass
After Makana found her balance, softness, engagement, and suppleness through these exercises at a collected walk, Fred released us along a straight line into a flat walk and WOW it felt terrific!
The two lessons I had with Fred Kappler have set me on a new course of training gaited dressage. Going forward, I will spend more time riding lateral exercises at a collected walk before releasing Makana into flat walk along a straight line. I will add more transitions between exercises, more transitions between directions of bend, and more transitions between gaits. All of these exercises improve balance, engagement, connection, roundness, strength, and quality of movement.
Adding to the education was the amazing feeling of community I felt with the people who attended this clinic. Fred is unique when compared with most clinicians. He enjoys sharing his wealth of experiences outside of lesson time and is an entertaining storyteller. Deb, the owner of Amity West Stables, is an inspiring rider and trainer with amazingly talented horses. I watched her lessons with Fred and was impressed with witnessing piaffe and passage, canter pirouettes, tempe changes, extended trot, half pass, and more. Not to forget that Deb is a lot of fun to hang around with, as well as the many boarders there.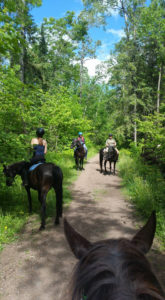 It was great to meet Facebook friend, Louisa, for the first time in person. She organized a marvelous matching set of four black Tennessee walking horses on a beautiful trail ride along Lester River the day before the clinic. I enjoyed reconnecting with a Walking horse friend, Becky and an eventing friend, Amy, and met new friends Nikki, Michelle, Pam, and the barn staff at Amity West Stables.
I hope it will be the first of many re-connections with this fun-loving group of dressage riders—both gaited and non-gaited. (As for Fred, will he and I live another 22 years for a reunion? Awe, maybe. Hopefully I will get a chance to ride with him sooner than later!)
Stay connected by subscribing to the Naturally Gaited youtube channel and liking and following our community on facebook.com/naturallygaited.