Since launching NaturallyGaited.com, I've met a lot of interesting people through social media who are enjoying their naturally gaited horses in a variety of ways. Recently, I met J. Ed Casillas who enjoys his Paso Finos for trail riding, endurance riding, rescue, team penning, drill team demonstrations, and therapy riding programs.
I've learned a lot about Paso Finos that I never knew. Such as, did you know that Pasos are able to execute up to nine different natural gaits on cue? 1. Walk 2. Trot 3. Fino 4. Canter/lope 5. Corto/slow rack 6. Largo/fast rack 7. Super largo/singlefoot 8. Pace 9. Andadura /amble. Some gaits of which are faster than the gallop of most trotting horse breeds.
J. Ed Casillas's story unveils a wonderful bond between a horse and rider and highlights just how versatile the Paso Fino is, so I asked him if he would share his story with you. –Jennifer Klitzke
---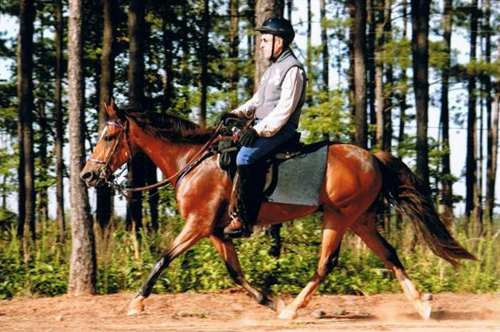 The Versatile Paso Fino
By J. Ed Casillas, Guest Writer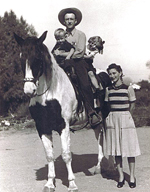 Although I wasn't a horse owner until later in life, I've been around horses since I was a child. One of my grandfathers was a cattleman who provided mules to the U.S. cavalry. The other was a dude rancher who had business relationships with western movie cowboys. My uncle had a ranch, and I rode his horses during branding round-ups. I also exercised other people's horses for fun or favor, and I worked around the race track horses.
Then I suffered an occupational back injury. So at 40, when I began looking for my first horse, I knew I needed a smooth-gaited horse to go easy on my back. When I met a Paso Fino gelding named Obrizo Juan Sinsonte (Obi), I knew he would fulfill this requirement very well.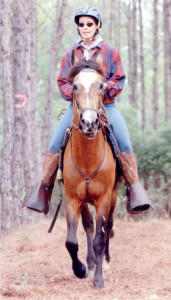 I had been introduced to Paso Finos when I rode Obi's sire, Leo de Vez (Leo). Leo is a son of Coral LaCE, the Paso Fino Horse Association (PFHA) Hall of Fame stallion and 13 time top 10 sire. Leo also competed in the first all Paso Fino drill team in Florida. He was known for passing on his wonderful disposition, confirmation, and natural smooth gaits. Leo was a seasoned competitive trail, AERC endurance horse, had been shown in his younger years, and became a South East Distance Riders Association Hall of Fame stallion.
Paso Beginnings
Paso Finos found their way into my life unexpectedly. In 1996 my work took me from Tallahassee, Florida to Las Vegas, Nevada where I met Lindsay Campbell, a Florida native and Paso Fino owner. After we had been hiking partners to vistas where she wrote while I painted landscapes, she shipped two of her Paso Finos, Obi and Leo, from Florida and we became riding partners.
My initial ride on Obi showed that he was rather green when compared to Leo, so Lindsay rode Obi for the first 10 months. I rode Leo who did an excellent job educating me about riding a trained Paso Fino. While exploring the trails, I shared my enthusiasm for the Paso Fino with everyone I met. Most riders in Las Vegas rode quarter horses, paints, and mustangs. They took notice to our Paso Finos' naturally smooth gaits.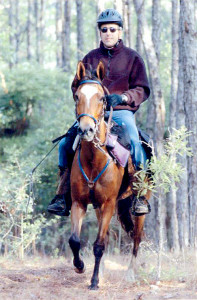 Pasos for Healing
As for me, I discovered the healing properties associated with riding naturally smooth gaited Paso Finos: my back didn't bother me as I rode and the low-impact strengthening of my abdominal and back supporting muscles rehabilitated my back without the pain of conventional exercise. In fact, the only pain I suffered with a Paso Fino occurred when Obi was unloaded from the rig. He stepped on my foot in his exuberance to get off. Fortunately he was barefoot and I wasn't!
After Obi and I had completed our training, Lindsay began riding Leo, and I rode Obi. It didn't take long for me to bond with Obi as my very own. He has been my once-in-a-lifetime horse.
Pasos for Trail
In 2000, Lindsay and I joined the Pasos for Pleasure program offered in Paso Fino Horse World magazine. This program recognizes those who ride their Paso Finos for recreational purposes such as trail riding. Participants log their trail miles for milestone awards. Lindsay and I loved riding long hours through nature on the virtually limitless trail system outside of Las Vegas. Lindsay and I rode with several riding clubs such as Drinkers of the Wind Riding Club, Roughriders, and a gaited group, as well as with members of organizations from the National Wild Horse and Burro Association, Nevada Horse Council, and the Trail Coalition.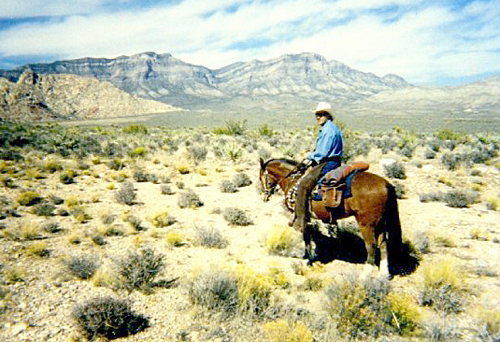 We trail rode West of Las Vegas at Red Rock Canyon, a National Conservation area, where early Spanish missionaries and immigrants traveled through to California. Red Rock Canyon is home to several herds of wild mustangs and burros. On most of our rides we would see them roaming free.
Saving the Wild Mustangs and Burros
In 1999 the Bureau of Land Management (BLM) proposed to remove the herds from Red Rock Canyon. I discussed holding a rally and trail ride in support of keeping the wild mustangs and burros at Red Rock. The horse and biking clubs agreed. We notified the media about our rally and trail ride. Several dignitaries voiced their support such as Las Vegas Mayor-elect Oscar Goodman. Lindsay and Leo, her naturally smooth gaited Paso Fino, led the ride.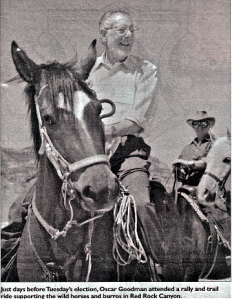 The rally included speeches, sentiments, and discussion about the importance of wild horses to the aesthetics of Red Rock Canyon, with a backdrop of beautifully moving wooden flute music which was played by a Native American. Afterwards, Mayor-elect Goodman's public relations officer asked if Mr. Goodman could ride Obi. I agreed and a photo was taken of Mayor-elect Goodman enjoying his glide ride on Obi which was published in the Las Vegas Review Journal. This rally and support played a major role in keeping wild mustangs and burros at Red Rock Canyon (at least for the time being).
Inspired by the Native American flute player, I learned how to play a wooden flute and took it to the trails. However I wouldn't recommend playing the flute while riding any horse other than one as naturally smooth and well behaved as Obi. It's hard to ride safely while playing an instrument requiring use of both hands. Folks, don't try this at home. Obi's largo has been clocked at 20 miles an hour. A misstep at that speed could be disastrous. In fact, we did stumble once and my wooden flute bears teeth marks to prove it!
Pasos for Rescue
Speaking of missteps, riders with much more experience than I have come off their horses during our rides with other groups. Two times Obi and I recovered the loose horses by applying natural horsemanship techniques: Pursue briefly towards the loose horse, driving in, then turning away until the loose horse instinctively follows instead of moves away, and then slowing the pace until getting hold of the loose reins.
The third time the mishap occurred after a long climb up a steep grade into the mountains. My friend was riding an Arabian named Royal who lost his footing on slick rocks. Royal scrambled wildly to regain his footing but went down. My friend's foot was pinned against the rocks and was badly fractured. Obi blocked Royal's way while I caught him, and we ponied him five steep, rocky miles down the mountain for help while other riders attended to my friend. I got Royal back to camp. Another rider untacked him while Obi and I met the paramedics on a rough dirt road.
There was no way, an ambulance could reach my friend. The paramedics had to travel by foot carrying their heavy equipment and a tire gurney five miles up the high elevation and steep rocky grade. Seeing that they needed help, Obi and I offered to carry the equipment. Obi had already traversed the steep trail twice—once to take Royal and summon for help and twice to return to my friend and tell her "help is on the way." We made it the third time back to the accident scene. It took five men to move my friend to where a helicopter could land. Then Obi and I carried the paramedic's equipment down the mountain. It sure was easier going down, even with a rope tied to the gurney to ease it downhill.
Obi was a real hero on the trail that day. We earned eight Pasos for Pleasure hours that day alone. Obi never faltered. He didn't even flinch at the sound of the chopper when it landed or took off. We earned our 500-hour patch during that time, and it means so much to me now.
Pasos for Drill Team Demos
Obi has been featured as a demonstration horse to promote the Paso Fino breed. In 1998 and 1999, Lindsay and Leo, Obi and I, and our friend, Carlos Duran and his champion Dominican stallion, Centinela la Joya, participated in the 1998 and 1999 All-breed Festival held at Horseman's Park in Las Vegas. Both years, the three of us had fun riding drill team routines which incorporated sliding stops. The spectators really loved our Paso Finos' speed and naturally smooth gaits. I even let a few horsemen of other breeds ride Obi. After one turn around the arena each rider returned with the never failing "Paso Fino grin." It seems that every person I know that has ridden Obi has turned around and bought a Paso Fino.
Pasos for Penning
For six months I took Obi to a local ranch for team penning where we won the Best Time Award. This was just friendly competition (with serious quarter horse pros). Obi really excels in this sport, instinctively knowing what to do. He cuts, holds herds, sits down, and turns quickly. Fellow riders often asked what breed of horse Obi is and how long have we had been penning. I let some riders give him a try, and they remarked on his reining skill and how fast, responsive, and naturally smooth he is. Our team had penned steers in as little as 40 seconds. Maybe someday we'll see Paso Fino's in the pro ranks!
Pasos for Endurance
In 2000, I moved back to Florida and ever since then I've acquired more Paso Finos—each one of Obi's lineage. The Pasos for Pleasure program and the other recreational rider activities have increased the exposure of Paso Finos. The ever dependable and swift Obi has acquired the 2004-2005 High Point Endurance Horse of the Year. He has his Paso Fino Horse Association (PFHA) Title of Proficiency and is the first Paso Fino to earn it with trail points.
I also have Obi's younger brother, Yoda Eclipsis Sinsonte, who earned the 2008 PFHA High Point Pleasure Trail Horse of the Year. Lindsay rode Obi's full sister, Pocita de Cosa Dulce (Pocita), and has acquired the PFHA Endurance Horse of the Year in 2007, 2008, and 2010. In 2011 the duo earned the PFHA/AERC breed (highest mileage endurance) award. Obi and Pocita's full sibling, Miri-Castana Sinsonte has been successfully competing against quarter horses at all breed game shows in pole weaving.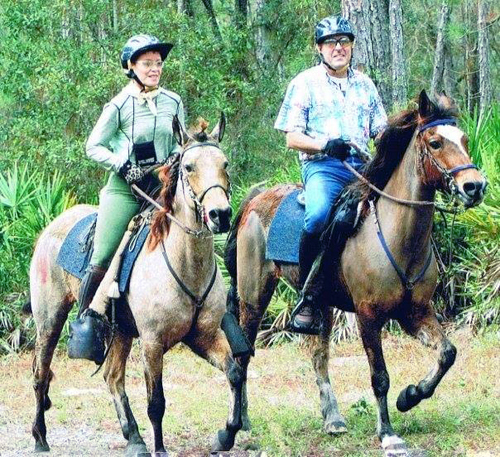 Pasos for Trail Challenge
While Obi is still my demo horse, I'm looking forward to exploring new adventures. Recently Obi and I began riding at the ACTHA trail challenges where Obi earned a blue ribbon at his first ride and three red ribbons thereafter.
Pasos for Soccer?
Horse soccer was showcased at the PFHA Nationals, so I have a soccer ball now. I will see where this takes us. So far our Pasos seem to have fun moving the ball along. Horse soccer anyone?
Pasos for Therapy
My passion for Pasos has grown on my daughters, too. One of my daughters has developmental challenges. Riding not only helps her condition, it also improves her self-esteem and confidence. Whenever she rides she beams with happiness for all to see. For both of my daughters my Paso Finos seem to adjust to their needs like nursemaids. Their sure-footed confidence, smooth gait, and gentle dispositions allow my daughters to feel free from the day's restraints as they enjoy adventures of their own with Pasos for Pleasure.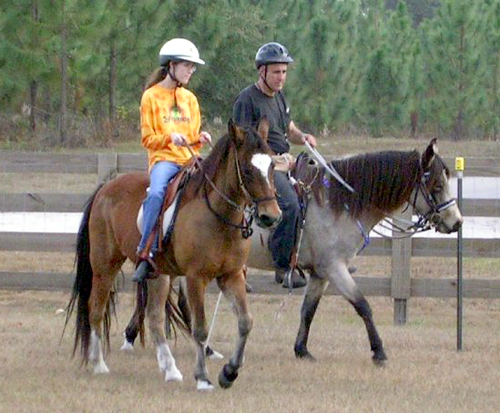 Obi is great with all riders. The video below shows him at HOpe Horses Helping PEople Therapeutic Riding Center in Archer, Florida being used as a therapy horse.
---
I hope you enjoyed reading J. Ed Casillas's story about his partnership with his versatile Paso Fino Obi. If you have a naturally gaited horse you've developed a special relationship with and ride gaited dressage or versatility, and would like to share your story on NaturallyGaited.com, please contact me by completing the contact form. —Jennifer Klitzke