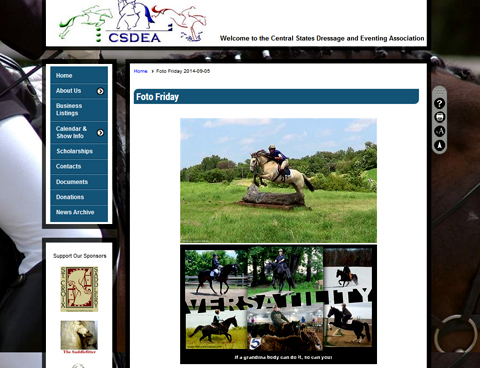 By Jennifer Klitzke
I'm a returning member of Central States Dressage and Eventing Association after a 16-year lapse. I had retired my second level Trakehner/Thoroughbred gelding in 1996 when soundness issues and unfortunate circumstances took over my life for a time. (Praise God, as He has restored the years the locust had eaten and my gelding has been sound the last five years as an old man.)
I renewed my membership to the CSDEA in 2011 after showing my Tennessee walking horse Gift of Freedom (Makana) at a couple of open traditional schooling dressage shows. It was one way to get reconnected with the people and events in my region as it relates to dressage. As of now, the CSDEA doesn't allow gaited dressage horses at their recognized shows since they follow USDF rules. However many of their dressage schooling shows accommodate gaited dressage entries for which I have participated at many since 2010.
A few weeks ago I learned that CSDEA has a photo feature on their website, so I submitted two photos: one of Makana and the other of my Spanish Mustang Indian's Legend. (I refer to them as "Smooth" and "Bumpy.") Both photos were featured last week on the CSDEA website!
This is a milestone for both breeds as the Tennessee walking horse and the Spanish Mustang have never been featured on this Web site. I was tickled and thought I'd share the good news with you!