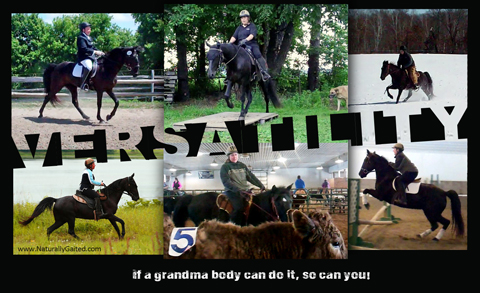 Naturally gaited horses are versatile!
Gaited horses can excel in a variety of equine disciplines including gaited dressage, endurance riding, stadium jumping and cross country, trail obstacles, and working with cows in team penning and cow sorting events. Plus they are easier on your body as you grow into your senior years!
Gaited Dressage

Dressage is more than trot and the saddle you ride in!
If you hear of a schooling dressage show in your area, contact the show manager and ask if you can ride your gaited horse using the NWHA or FOSH gaited dressage tests and mail copies of your tests with your entry. So far I haven't been turned down. Many schooling dressage shows are open to Western Dressage, too!
httpv://www.youtube.com/watch?v=3BxGJ3p-EJ4?rel=0&w=560&h=315
Endurance Riding

If you are a trail rider, you've got to give a novice endurance ride a try! It is great conditioning for the horse and you can't beat the view.
(Plus the trotting horse folks will be envious when they see
how refreshed you are when you cross the finish line.)
httpv://www.youtube.com/watch?v=AxLee6sBmEM?rel=0&w=560&h=315
Gymnastic Jumping
If your naturally gaited horse has a lateral or four-beat canter, gymnastic jumping really helps improve the quality of the gaited horse's canter.
httpv://www.youtube.com/watch?v=v4fqYD8znvg?rel=0&w=560&h=315
Trail Obstacles

Ground rails and grids improve your horse's coordination
and are a fun way to apply your dressage aids.
httpv://www.youtube.com/watch?v=KMLGE5VSTiQ?rel=0&w=560&h=315
Working with Cows
Moving cows is seriously more fun than I ever thought!
It's amazing how much I rely on my dressage aids while working with cows. Plus, horses like my naturally gaited Tennessee walking horse who is on the low end of the pecking order, loves having something to push around!
Video: Introducing your horse to cows clinic
httpv://www.youtube.com/watch?v=4TuR3o6G4Wg?rel=0&w=560&h=315
Video: Sorting cows with a gaited horse

Riding in Snow

If you don't have an indoor like me and live in the frozen tundra,
discover how much fun it is to ride your horse in the snow! A midnight, moonlight ride is the best!
httpv://www.youtube.com/watch?v=jOxYbtMzAJ8?rel=0&w=560&h=315