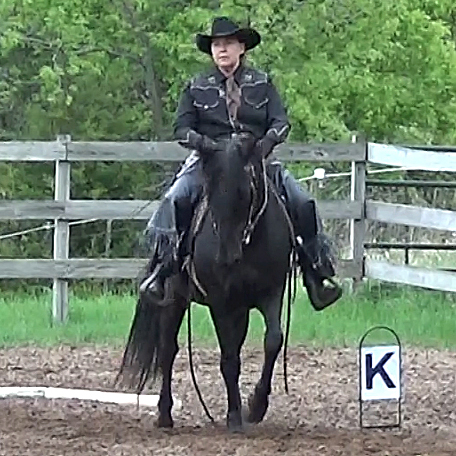 By Jennifer Klitzke
I felt like I was dressed up for a Halloween costume party wearing this get up, but I thought I'd give Western gaited dressage a try again. This time without leaving home. I saw a Facebook post for a virtual Western dressage show that was open to gaited horses. So my naturally gaited Tennessee walking horse Makana and I rode the FOSH IJA Training 1 Test which calls for regular walk, medium walk, free walk, intermediate gait (flat walk), and canter.
What's nice about a virtual show is that you can ride from home—no need to trailer to the show grounds, as long as you have an arena marked off and someone to record your ride. No editing allowed, just the raw footage to capture the entire test, post it to youtube and wait for the results and feedback via email.
Then if you feel like it, you can share the video link with others and ask for their feedback as to how you and your horse could have ridden the test better.
Video: FOSH IJA Training 1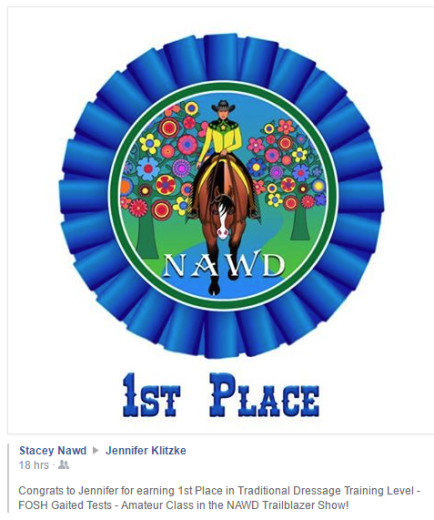 One of the judge's comments about our test was: "Excessive head nod." Isn't that what a Tennessee walking horse is known for?
Perplexed, I asked my gaited dressage mentor Jennie Jackson for feedback on how to improve my Western riding.
Jennie gave me terrific feedback in regards to riding the medium walk, which makes up the majority of this test. She said that at times during the medium walk, my horse displays a "head peck" instead of a "head nod."
"Head peck? What on earth is that?!" I asked. Jennie said that the head nod is where the Tennessee walking horse travels forward from the hindquarters through a neutral to round back into a connection with the rider's seat and light rein contact (not loose, floppy reins). The head nod should lower down from the head and neck with each step of the hind legs.
The head peck, on the other hand, is a disconnected head motion from the hind leg steps where the horse simply flicks its nose upward.
To correct the head peck, Jennie said that I need to encourage my horse to step deeply under her body where I feel her back raise up under my seat and then travel through the shoulders,neck, and poll to the bit.
Video: Head Nod (or Head Peck)?
Jennie also mentioned that I need to "freshen up" Makana's canter with hand galloping to get her back to a three-beat canter. It's not enough to be satisfied with just getting the correct canter lead. I need to work on improving our canter to the quality of the trotting horses. Will we ever attain it? Maybe not, but it is something to aspire to.
Ah, yes! After reviewing the video, I see the nose flicking head peck at the medium walk and the rather flat canter.
Now that's terrific feedback I can begin working on the next time I ride. I hope by sharing these videos and feedback will help you at home as you train your gaited horse in dressage.
Feel free to write to me any time with your comments, questions, and stories. I'd love to hear about your gaited dressage journey. Stay connected by subscribing to the Naturally Gaited youtube channel and join our community on facebook.com/naturallygaited.
Photo gallery: (click to enlarge)